Who doesn't like Thanksgiving? That one magical day each year when you commiserate with loved ones that you have painstakingly avoided since Christmas. As you gather around the table to toss around empty niceties about how you really should get together more often, you stuff yourself with dry turkey that has been withering away in the oven for the past 6 hours because no one in most families really knows how to properly cook a meal that is only prepared once a year anymore.
Well this year will be different. Armed with a bit of curiosity and a blog full of knowledge, I want to help you roast a Thanksgiving turkey you can be proud to serve that nagging mother-in-law who you know always secretly wanted better for her son.
So for a change of pace, since I know you are busy and you probably started researching this at the last minute, I will cut to the chase and show you how I roast a perfect thanksgiving turkey.
Like many of you, I go to the grocery store to select a Thanksgiving turkey (Butterball, Jennie O, etc). This recipe is designed with such a bird in mind.
Frozen Turkey (this recipe is ideal for 12+lb birds that require longer roasting times)
2 sticks Butter
~1 tablespoon Rosemary
~1 tablespoon Thyme
~1 tablespoon Sage
~2 tablespoon Olive Oil
~½ teaspoon Garlic Powder
~½ teaspoon Paprika
~½ teaspoon Salt
~½ teaspoon Pepper
Aluminum Foil
Thawing: Thaw turkey in fridge 5 days prior to cooking. If you need to thaw turkey faster, soak it in cold water, replacing the water every 30 minutes to ensure the turkey stays cold. Warmer water can cause the exterior of the turkey to warm up too much and breed food poisoning if left out.

Advance: Place thawed turkey in fridge, uncovered, the night before cooking. This will dry the turkey's skin to help create a crispy brown bird.
Prep: Separate the skin from the turkey breast, covering as much of the breast as you can, being careful not to tear. Mix butter, rosemary, thyme and sage together and stuff mixture under skin covering the breast. This will keep the breast moist as it cooks. (You may not need all of the butter mixture)
Rub oil over all of the turkey's skin, this will help crisp the skin during roasting. The oil on the skin and the butter below the skin will eliminate the need for basting. Only dust the skin with salt at this point as the other seasonings will burn if added now (despite the fact that I clearly dusted the bird in seasonings in this picture...).

If using fresh herbs, place a bouquet of rosemary, sage, and thyme in the cavity of the turkey. Tuck wing under the turkey's back (like you are twisting someone's arm behind their back), and tie legs together to keep them close to the body.
Recommended but Optional: Placing chopped onions, carrots and celery under the bird will help flavor the gravy.
Roasting: Pre heat oven to 500 degrees and place turkey on lower rack, this will crisp the skin to seal in juices. After 30 minutes reduce oven temperature to 350 degrees and cook for another 30 minutes. Place aluminum foil over turkey breast to help keep it moist during the rest of cooking. Using the mixture of garlic powder, paprika, salt and pepper, dust mixture all over the skin and rub around to for even coating. This will add flavor to the skin, but adding it this late into cooking will reduce blackening.

Remove turkey from oven when meat is 160 degrees (testing at the thickest part of the thigh and breast). The temperature will continue to rise above 165 degrees which is the safe temperature. Roasting time will vary depending on bird size, but expect this to go quicker than the instructions included with the bird because it begins to roast at such a high temperature. (My 12 lb bird took 2 hours)

Remove from roasting pan (if needed to get at drippings) and let rest for 60 minutes prior to carving. Start on gravy right away.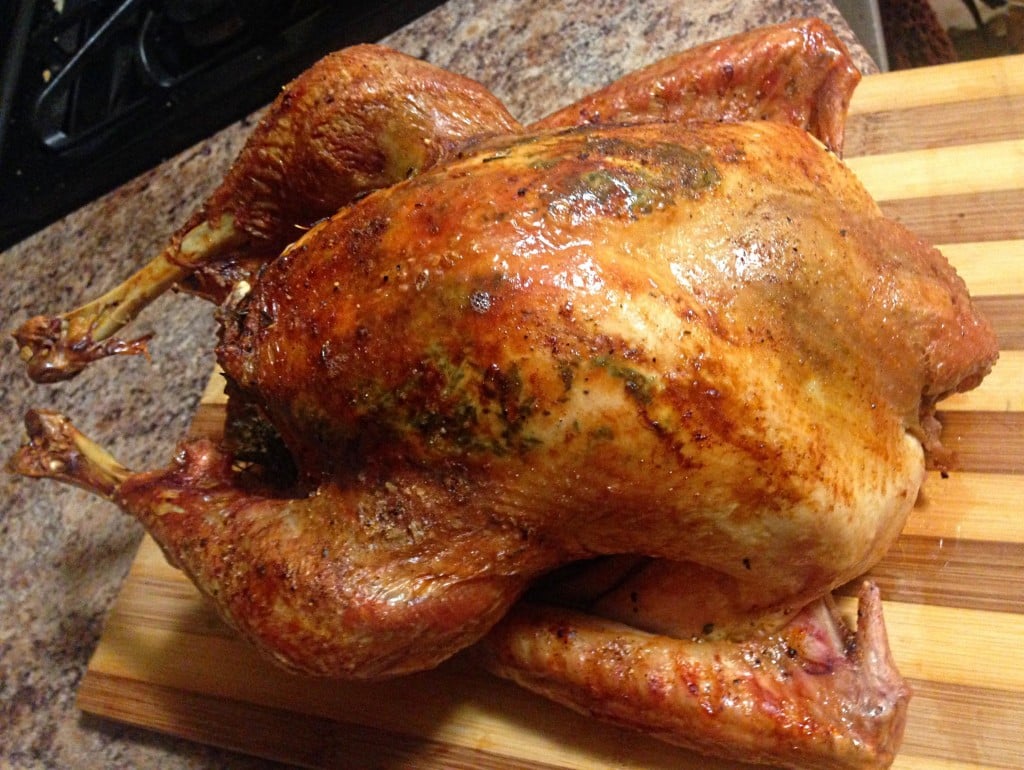 Additional Thanksgiving Turkey Tips:
Do not baste the turkey – People baste turkeys to keep it moist. However it is not necessary to do if you place butter under the turkey skin prior to cooking. The butter will do a better job flavoring the meat and keeping it moist without extending your cooking time by needlessly opening the oven every 30 minutes. Additionally basting the turkey does little to enhance flavor, it only flavors the skin.
Don't brine a store bought bird – Store bought birds already have a salty solution in the meat to enhance flavor and juiciness. Brining the meat further will create a Thanksgiving saltlick only enjoyable to carnivorous cows.
Do not put stuffing in the turkey – The added stuffing will prevent airflow inside the bird making it take longer to cook. Additionally the stuffing, being in the center of the bird, will be the last part of the turkey come up to a safe serving temperature. Therefore if you serve the bird at an acceptable 165 degrees there is a good chance it will be contaminated with dangerous bacteria because it has never reached the right temperature. If you do continue to cook the stuffing to a safe temperature, the turkey meat will likely be dried out.
Let the Turkey Rest - I am always terrified about letting a meal getting cold. Who wants to slave over a meal for hours only to let it go cool on the counter top? Well, relax!  Turkeys take forever to cool back down.  Plus, it is actually good to let them sit and relax as you finish the gravy and the other side dishes.  During the hour that you are letting the turkey rest the juices are settling back in the meat, so when you cut into the bird you won't spill all of the juices on the plate and serve dry meat. Your patience will be rewarded.

Get a Meat Thermometer - If you do not have a meat thermometer you are not serious about roasting a proper turkey. Period. Different sized turkeys cook at different rates and you do not cook them enough to know exactly when it is safe to eat.  Without a proper thermometer you will either take it out too early and risk poisoning your whole family, or you will be too timid to take it out of the oven and end up serving turkey leather. Stop being cheap and spend $10 on a digital thermometer that you will end up using every month of the year.
I hope I helped you make a special meal that will make your family gatherings even more memorable. Remember to give thanks for everything you have to be grateful for this year.  I for one am thankful for my great readers.
Happy Thanksgiving!