Drunken Beans feature browned ground beef and pinto beans swimming in a beer-infused broth loaded with bold Mexican seasonings.
During the winter months, hearty chilis and stews are on my go-to recipe list for family meals. This drunken beans recipe is a great way to change things up while still creating a meal the whole family will love – think Mexican chili. And don't worry about the beer in the broth, the alcohol cooks out, leaving a rich balanced flavor behind that anyone will enjoy.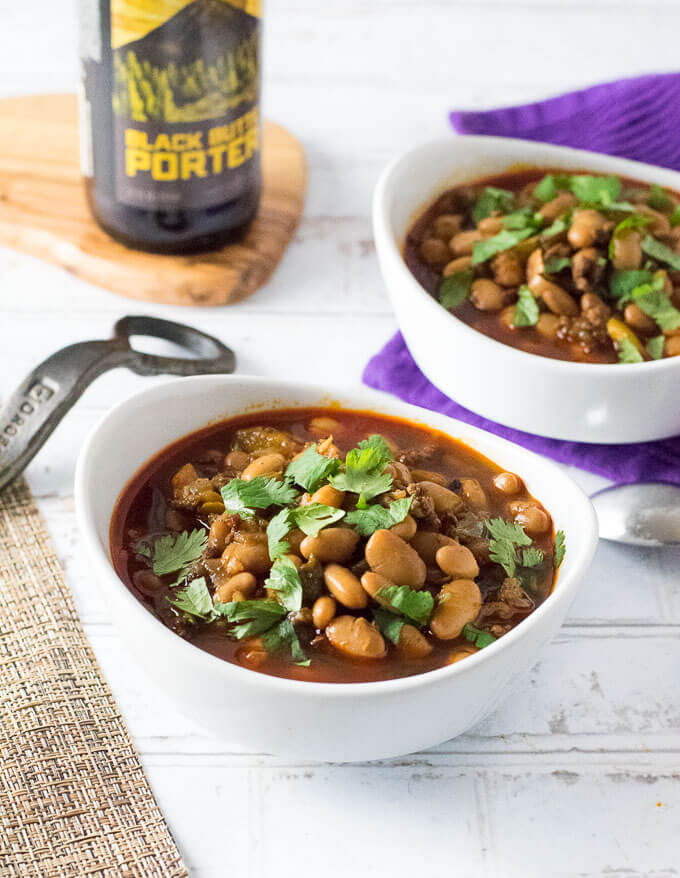 What are Drunken Beans
Drunken beans, also known as Frijoles Borrochos, is a savory Mexican soup featuring pinto beans, peppers, onions, seasonings, and a beer-infused broth. A protein is often added to the soup, with bacon being a popular choice. Personally though, I like using ground beef to make it more chili-like. You can omit the meat all together though if you want to make a vegetarian version.
How to Brown Hamburger
To get the maximum amount of flavor from your hamburger it needs to be browned properly. Most people just cook hamburger meat until it is no longer pink, but that is not enough. Instead, let the meat continue to sit in the skillet or pot for a few more minutes until a brown crust starts forming on the meat. This is where the flavor is! After all, that is why we call it "browning hamburger", not "graying hamburger"!
How to Soften Dried Beans
Most recipes call for soaking dried beans in water overnight to allow the beans to soften. This works very well, however, if you are like me, you never plan well enough in advance to do this. Instead, here is the trick I use: Place the beans in a pot of water and bring it to a boil on the stove top for five minutes, then let them rest in the hot water for a half an hour. The beans will not be completely tender yet, which is good. They will finish softening as you cook your drunken beans so they aren't overly mushy when you're finished making the soup.
How to Make Drunken Beans
I like making drunken beans in a Dutch Oven. The wide bottom is great for browning the meat and sauteing vegetables, and the thick pot is perfect for simmering on your stovetop.
Make sure when you begin to simmer the soup that all of the ingredients are covered by the broth. If some of the beans are sticking out of the liquid they will not cook properly. After adding the beer and beef broth to the soup add water as needed to ensure all of the ingredients are covered in liquid.
Drunken Beans Troubleshooting
Drunken beans is a pretty simple soup to make, so there isn't too much to worry about screwing up. The only thing that could really go wrong is if you finish cooking the soup and your beans aren't sufficiently tender yet. If this happens, just continue cooking the soup until they reach your desired tenderness.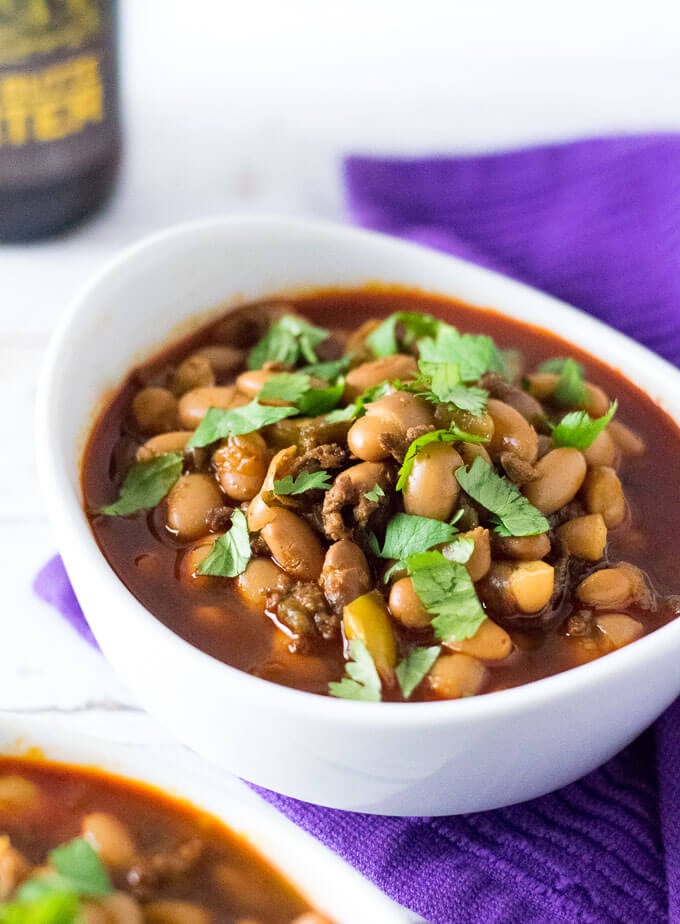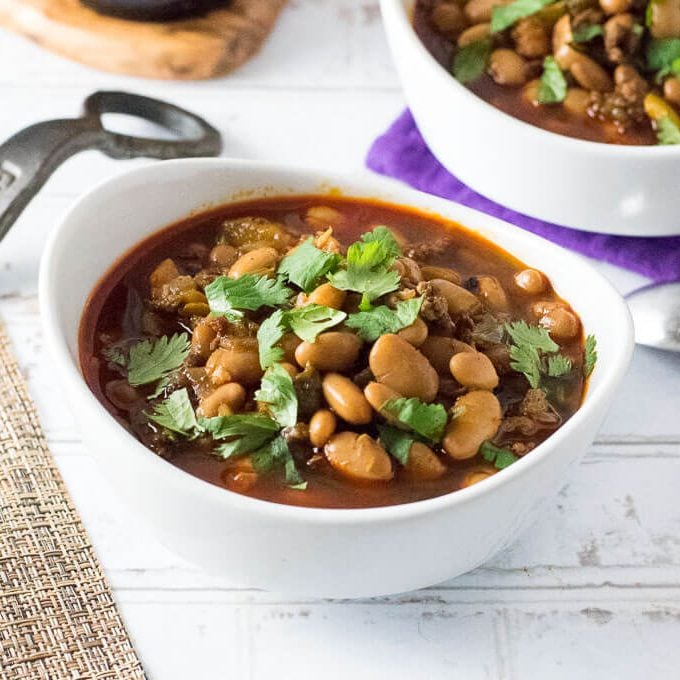 Print Recipe
Drunken Beans Recipe
Drunken Beans feature browned ground beef and pinto beans swimming in a beer-infused broth loaded with bold Mexican seasonings.
Ingredients
1

pound

dry Pinto Beans

1

pound

Ground Beef

Olive oil

as needed

1

large

Onion

(chopped)

1/2

medium

Yellow Bell Pepper

(chopped)

1/2

medium

Green Bell Pepper

(chopped)

2

cloves

Garlic

(minced)

1

Jalapeño

(seeds removed & chopped)

1

tablespoon

Cumin

1

tablespoon

Paprika

1

tablespoon

Acho Chile Powder

12

ounces

Dark Beer

2

cups

Beef broth

Water

as needed

2

tablespoons

chopped Cilantro
Instructions
Soak beans overnight to soften. Alternatively, you can add beans to a pot of water and boil for 5 minutes. Then shut off heat and let sit for 30 minutes and proceed with the recipe.

Cook beef in Dutch Oven until browned. Remove with a slotted spoon.

To the same pot, add bell pepper, jalapeño, onion, and garlic and saute in the leftover fat from the beef, adding olive oil only if needed. Cook until the onion is translucent.

Stir in cumin, paprika, and ancho chili powder.

Return beef for the pot, add beer, beef broth, and top with water as needed to cover the ingredients.

Simmer on low until the beans are soft, about 1 hour.

Season generously with salt, stir in cilantro and serve.
Loved this recipe?

Be sure to rate it and share you thoughts below!
*Calories listed are a vague estimate and accuracy should not be assumed.
This recipe was originally published February 26, 2015, on FoxValleyFoodie.com.
If you enjoyed this Drunken Beans recipe then you should probably like me on Facebook and follow me on Pinterest too. That's what I would do at least, and if you are willing to take my advice on the food you put into your body you should probably follow my advice on that too.