This Watermelon Citrus Cocktail combines fresh watermelon juice with the bright flavors of citrus and melon liqueur, for a refreshing summer drink.
Saturday my wife and I went hiking in Wisconsin's Kettle Moraine State Forest. We couldn't find a babysitter for my one year old daughter so we'd decided to let her join in on the fun as well. Oh, and what fun she did have! She criiiiiiied, and criiiiiiiied, and criiiiiied on the hour long drive to the trails, and once we arrived upon placing her in a jogging stroller she criiiiied and criiiiied some more. She typically loves going on walks in the stroller, so I'm not sure what the deal was.
Her crying eventually subsided, only to be replaced with a burning sensation in my arms and shoulders from pushing a stroller up and down miles of steep hills, and through 10" long grass. We decided to take a shorter hike and found a loop on the map to take us back to where we parked. I'm happy to report I expertly navigated us to the exact spot on the map we were trying to reach... only to get there and realize this particular parking area was not where we started. We were actually on the very furthest spot of the map from where we began.
So we turned around and finally set off in the correct direction with the realization that we just doubled the length of our intended hike. At this point we successfully made it back to where we started, expertly navigating around an old man who wanted to chat us up about random hawk feathers along the way - I wanted to explain to him that I'm pushing a ticking time bomb of ear-piercing wailing that is primed to explode if we stop, but I didn't want to be rude. We were just relieved when he couldn't find the feather that held his fascination, and we could continue our blitzkrieg back to the car.
On the way home we stopped to pick up a hiking child carrier, which should make future hikes infinitely easier. However, in the meantime this Watermelon Citrus Cocktail was the only balm I needed to unwind from my nature excursion... Now only if my muscles didn't burn too much to lift the glass.
To make the watermelon juice for this Watermelon Citrus cocktail you can use a juicer, or a blender. I understand most people don't own juicers, but don't worry, a blender works exceptionally as well. I also recommend using a cocktail shaker for this recipe, they are fairly inexpensive and perfect for making a variety of cocktails.
The above links are affiliate links. Any Amazon purchases made through these links help support FoxValleyFoodie.com at no additional cost to you.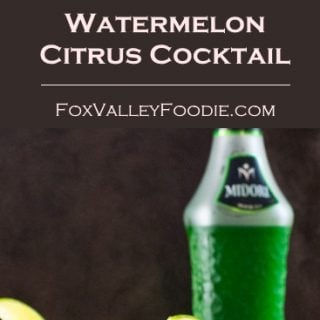 Watermelon Citrus Cocktail
This Watermelon Citrus Cocktail combines fresh watermelon juice with the bright flavors of citrus and melon liqueur, for a refreshing summer drink.
Print
Pin
Rate
Save
Saved
Ingredients
1

cup

watermelon juice from fresh watermelon

Juice of 1 lime

2

oz

Midori Melon Liqueur

2

oz

Grapefruit vodka

Ice
Instructions
Watermelon Juice
Chop fresh watermelon and place red flesh in a blender. Puree until it is liquid then strain through a fine wire mesh screen into a bowl. Measure out desired amount of watermelon juice and scale the cocktail recipe accordingly.
Cocktail
Add all ingredients to a cocktail shaker, shake and serve over ice.
Notes
If you don't have Midori, I have made this with other melon liqueurs and it still turns out great.
There are multiple brands that sell grapefruit vodka, however you can substitute regular vodka and add a splash of grapefruit juice if needed.
If you enjoyed reading my Watermelon Citrus Cocktail recipe then you should probably like me on Facebook and follow me on Pinterest too. That's what I would do at least, because if you don't get to know me but you still use my recipe it is kind of like taking candy from a stranger, and your mom taught you not to do that. Don't disobey your mom, subscribe to Fox Valley Foodie today.