Cozy up to a pot of French Onion Pot Roast on a chilly winter evening. The rich flavors of French onion soup soak into hearty red potatoes and luxuriously tender beef.
I think pot roast is one of the most quintessentially midwestern dishes to ever hit a dutch oven. Its simplicity is its beauty, ingredients are prepared with minimum effort while the low and slow cooking methods creates the magic. While you spend the afternoon counting flowers on the wall, the tough cut of beef slowly melts into a mouthwatering meal.
A traditional pot roast typically features carrots. However, I don't find carrots to be a good flavor companion to French onion soup, which is why they are omitted. Red potatoes, however, are perfectly suited to soak up every delicious drop of flavor-infused juice. Not only is their creamy, mild, flavor a great addition to the pot roast, red potatoes hold up well to long cooking times, unlike traditional baking potatoes.
How to Make French Onion Pot Roast
I really wrestled with whether to chop the onions for this recipe or slice them. Traditionally, French onion soup features sliced onions. However, I decided to chop my onions so they could incorporate into the gravy rather than needing to be scooped up by the forkful. You are welcomed to choose either method.
Dutch Oven Pot Roast
This is one recipe where a Dutch Oven shines! Using a dutch oven allows the beef to be seared on the stove top and the onions to be caramelized, then the same pot can be placed in the oven while the roast braises. The thick sides allow it to retain heat better and distribute it evenly to prevent scorching. Could you make this recipe simply by adding the ingredients to a slow cooker? Yes, but you would be missing a ton of flavor.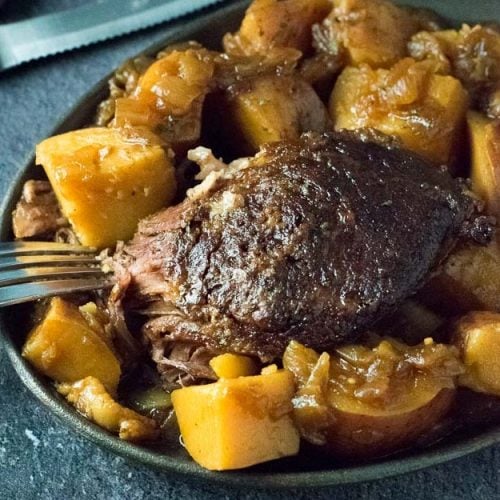 French Onion Pot Roast
Cozy up to a pot of French Onion Pot Roast on a chilly winter evening. The rich flavors of French onion soup soak into hearty red potatoes and luxuriously tender beef.
Print
Pin
Rate
Save
Saved
Ingredients
3-4

pound

chuck roast

3

tablespoons

flour

(or as needed)

3

tablespoons

olive oil

(divided)

2

onions

(chopped)

3

cloves

garlic

(minced)

2

lbs

red potatoes

(cut into 2-inch pieces)

10.5

oz

can condensed French onion soup

1

cup

beef broth

1

cup

beer

1

tablespoon

worchestershire

½

teaspoon

Freshly ground black pepper

Salt to taste
Instructions
Preheat oven to 300 degrees.

Sprinkle salt over the roast then dust evenly with flour, rubbing around to even consistent coverage.

Add 2 tablespoons of oil to Dutch oven set to medium-high heat. Once oil is hot and shimmering add roast and sear on all sides until a brown crust forms.

Remove roast from the pot, reduce heat to medium low, and add additional tablespoon of oil. Add onions and slowly saute until golden brown and caramelizing, ~15 minutes or longer. Add garlic and saute additional 2 minutes.

Increase heat and add a few splashes of beef broth and scrape brown bits from the bottom of the pot to incorporate into liquid, then add all ingredients to the pot.

Cover Dutch oven, bring to a simmer and place in the oven. Braise for 3 hours or until beef can easily be shredded with a fork.

Slice or shred beef and serve on plates with the potatoes, onions, and juices.
Nutritional Information
Calories:
638
kcal
|
Carbohydrates:
33
g
|
Protein:
48
g
|
Fat:
34
g
|
Saturated Fat:
12
g
|
Cholesterol:
158
mg
|
Sodium:
619
mg
|
Potassium:
1750
mg
|
Fiber:
3
g
|
Sugar:
5
g
|
Vitamin A:
40
IU
|
Vitamin C:
16.2
mg
|
Calcium:
75
mg
|
Iron:
6.2
mg
If you enjoyed reading about my French Onion Pot Roast recipe then you should probably like me on Facebook and follow me on Pinterest too. That's what I would do at least, because if you don't get to know me but you still use my recipe it is kind of like taking candy from a stranger, and your mom taught you not to do that. Don't disobey your mom, subscribe to Fox Valley Foodie today.