Looking at my backyard you would think I mistakenly planted dill rather than grass seed.  I have dill growing like crazy! I didn't even have to plant it this year, it is growing from the dropped seeds of last year's harvest.  The only problem with this all is that I have dill growing around where I also grow cucumbers for pickles, however the dill has come in so thick it is crowding out the cucumber plants.
In previous years I had the opposite problem.  I had more pickles than I knew what to do with and not enough dill to pickle them with. I had to resort to 'borrowing' some dill from the unattended elementary school garden down the street.  Shhh don't tell.  People say you shouldn't take candy from children, but they said nothing of produce!
While I was there, I also picked up a cool bike that someone just left lying by the playground's bike rack.  I think some kid was mad I found it before he did because I could hear him crying as I popped a wheelie and rode away. 
<Some events in the previous paragraph may have been fabricated for dramatic effect> 😉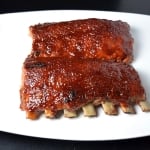 This summer though, my biggest problem is figuring out what to do with all this dill. I love the fragrant aroma of dill and its bright fresh taste, so I really want to make use of it while it is still fresh.  This past weekend decided to make some of my famous BBQ ribs in the oven and figured this vibrant feta and dill pasta salad would be the perfect accompaniment.
I find using my Wüsthof knives makes quick work of the produce.  The paring knife quickly glides though the cherry tomatoes and my chef's knife effortlessly cuts though the cucumbers and onion.  Month after month these knives stay ridiculously sharp with minimal effort.  I have been singing their praises since I started this blog in 2012, and Wüsthof is still my favorite culinary brand.  
Feta and Dill Pasta Salad
This Feta and Dill Pasta Salad is a deliciously fresh use of summer's wonderfully fragrant dill harvest!
Print
Pin
Rate
Save
Saved
Ingredients
16

oz

Rotini Noodles

1

cup

Extra Virgin Olive Oil

¼

cup

White Vinegar

¼

cup

fresh Dill

chopped

6

oz

Feta

crumbled

6.5

oz

can sliced Black Olives

½

Red Onion

sliced

1

Cucumber

chopped

1

pint

Grape or Cherry Tomatoes

halved

Salt and Pepper
Instructions
Boil the noodled in salted water until tender, strain and rinse with cold water.

Chop all vegetables per the recipe and combine in large bowl with the noodles and remaining ingredients.

Toss gently to combine.
If you enjoyed reading my feta and dill pasta salad recipe then you should probably like me on Facebook and follow me on Pinterest too. That's what I would do at least, because if you don't get to know me but you still use my recipe it is kind of like taking candy from a stranger, and your mom taught you not to do that. Don't disobey your mom, subscribe to Fox Valley Foodie today.