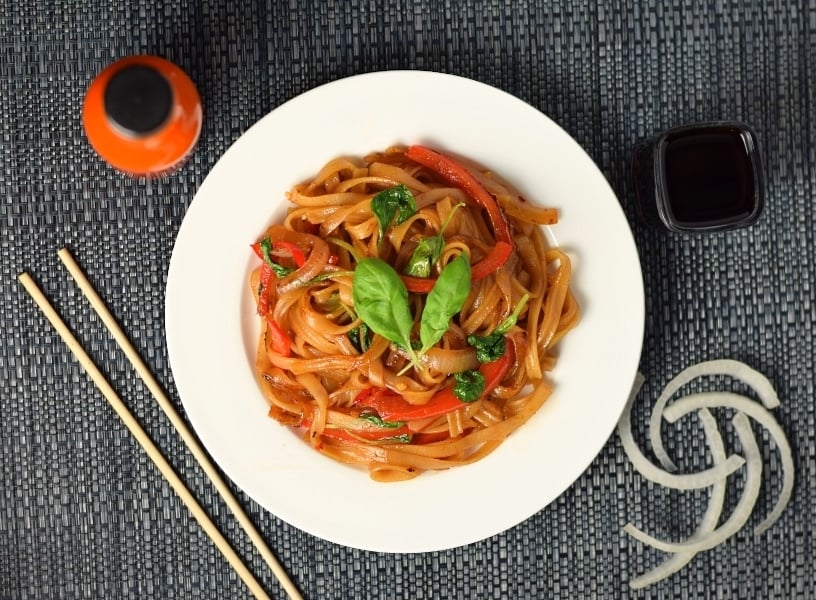 Do you remember when you were in college and wanted to make a basic meal, like burgers? You run to the store to pick up meat and buns, but then you realize since you are a lowly college student you don't have anything in your pantry so you also buy seasonings, a bottle of ketchup, mustard, a jar of pickles, a spatula, and perhaps a frying pan. Your simple meal just turned into a $40 affair, leaving you wondering why you didn't just go out to eat again. Well, that is how I often feel about Asian recipes. I love eating Thai food, but I rarely keep the needed ingredients on hand.
Recently however I decided I need to change that. Cooking Thai food at home is not difficult, it just requires a few additional ingredients not typically found in a Wisconsin pantry. These are all ingredients that can easily be located in the Asian food aisle of any grocery store and the ingredients called for in my pad kee mao recipe are common staples that you will find use for in many other Asian dishes. Plus, having these ingredients on hand is compelling me to cook even more delicious Asian food. Certainly a good problem to have!
If there is any Asian food perfectly suited for Wisconsin it is Thai Drunken Noodles, otherwise known as Pad Kee Mao. Drunken noodles are the Thai version of 2 a.m. pizza. Popularly sold by street vendors, they are said to be the perfect post-bar meal, and hangover cure.
What I really love about this pad kee mao recipe is how versatile it is. Customize the vegetables however you would like. I wanted to add baby corn, but the grocery store didn't have any. Other additions can be shredded carrots, Thai chilies, bean sprouts, tofu, chicken, shrimp, Skittles (just seeing if you are paying attention) or whatever your heart desires.
If you want to get serious about cooking this pad kee mao recipe, invest in a Wok. They are the workhorse of any Asian kitchen. If you are like me and don't own a wok, just use a good 12" skillet to make Thai drunken noodles instead.
The above links are affiliate links. Any purchases made through these links help support FoxValleyFoodie.com without any additional cost to you.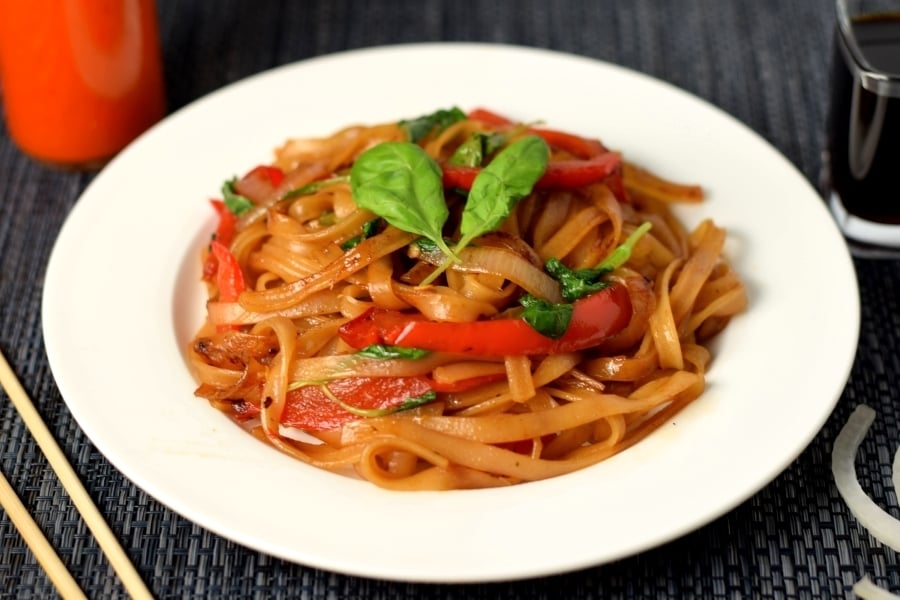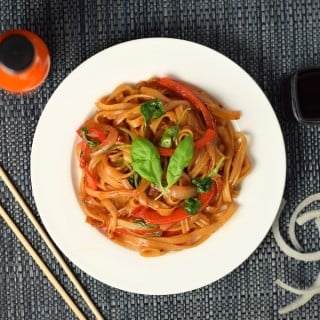 Pad Kee Mao Recipe – Thai Drunken Noodles
Pad Kee Mao, otherwise known as Drunken Noodles, is a delicious Thai street food guaranteed to satisfy!
Print
Pin
Rate
Save
Saved
Ingredients
8

oz

oz Wide Rice Noodles

2

tablespoons

oil

1

cup

sliced onions

1

Red bell pepper

julienned

2

tablespoons

minced garlic

½

teaspoon

crushed red pepper flakes

(Optional)

2

tablespoons

sweet soy sauce

1

tablespoon

oyster sauce

1

tablespoon

soy sauce

1

tablespoon

Fish Sauce

2

teaspoons

sugar

½

cup

Basil leaves; whole

1

teaspoon

rice vinegar
Instructions
Soak rice noodles as listed on the package instructions, stirring to separate and set aside.

Heat oil in 12" skillet or wok on high heat.

Add peppers, onions, and crushed red peppers and cook until onions begin to wilt.

Add garlic and cook until fragrant.

Add sweet soy sauce, oyster sauce, soy sauce, fish Sauce and sugar. Mix until combined.

Drain noodles and add to skillet. Stir-fry until noodles are tender, about 4 minutes.

Mix in basil leaves and vinegar. Continue to cook until basil begins to wilt.

Serve.

If you do not have any sweet soy sauce, make your own by mixing 3 parts soy sauce to 1 part dark brown sugar. Simmer together in a saucepan until sugar is dissolved and sauce is slightly thickened.
If you enjoyed reading about my Pad Kee Mao Recipe then you should probably like me on Facebook and follow me on Pinterest too. That's what I would do at least, because if you don't get to know me but you still use my recipe it is kind of like taking candy from a stranger, and your mom taught you not to do that. Don't disobey your mom, subscribe to Fox Valley Foodie today.