This classic cheesecake recipe without sour cream is sure to be the perfect fix for when that rich and creamy craving hits. Best of all, this easy recipe uses simple ingredients and is incredibly straightforward. No water bath is needed, and no guessing when it is done. You will get a perfect cheesecake the first time, and every time!
There are a variety of cheesecake styles, ranging from easy no-bake cheesecake recipes to the incredibly indulgent New York style. This recipe is closer to the New York end of the spectrum. Although some people swear an authentic New York style cheesecake needs a water bath or sour cream. My recipe requires neither, so I claim it simply as a regular cheesecake. Yet, it is the best cheesecake I've ever had!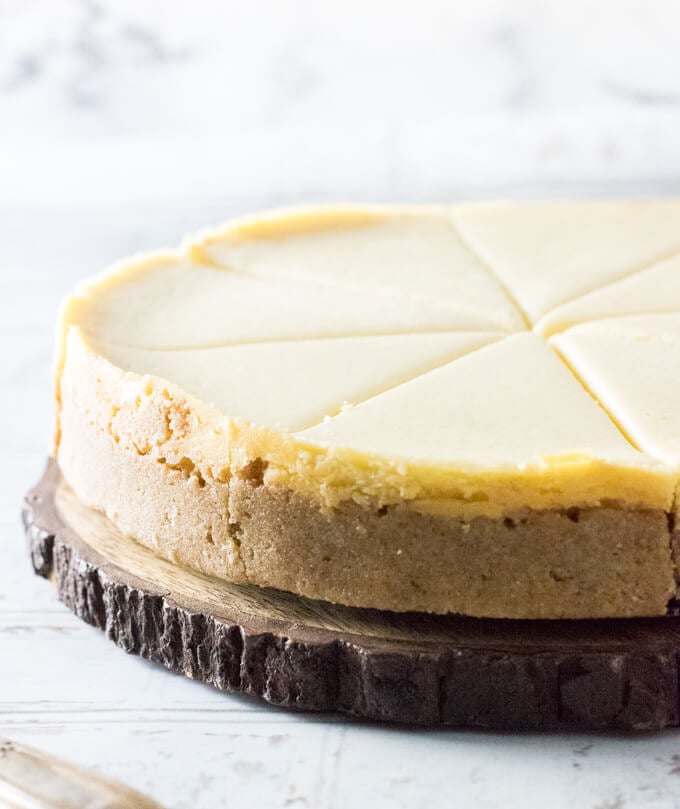 The easiest way to prepare this recipe is using a springform pan and a stand mixer, however, in my more thrifty days I have successfully prepared this recipe mixing by hand and using a pie tin.
Does Cheesecake Need Sour Cream?
Often sour cream is added to cheesecake to soften the texture of the filling. However, my recipe utilizes heavy cream instead, which I feel does a better job lightening the texture and adding moisture. It also yields an incredibly creamy cheesecake!
Sour cream also alters the flavor of cheesecake filling, giving it a tangier bite. Crafting a cheesecake without sour cream creates a more luxurious, creamier, filling with a smoother flavor. If you want to add a little tanginess to it, dribbling a teaspoon of lemon juice can replicate the acidity and flavor of the sour cream. Lemon zest can also be added, but fresh lemon juice does the best job of replicating the flavor of sour cream.
How to Make Cheesecake
Any great cheesecake is comprised of two key components - the rich and creamy filling, and the graham cracker crust. Let's take a look at how to perfect each one.
How to Make a Graham Cracker Crust
The buttery graham cracker crust is made with a mixture of sugar and melted butter. The easiest and cleanest way to crumble the graham crackers is by crushing them in the packages they are stored in within the box. From here, they can be combined with sugar in a food processor. A food processor gives you the best crumb, but if you don't have one you can crush them manually in a medium bowl instead.
I don't recommend mixing the butter in the food processor, as it tends to over-process the graham cracker. Instead, just pour the graham cracker crumbs into a bowl and use a fork to work in the butter. At this point, the crust can be formed and baked. Work on the filling as it bakes and cools.
How to Make Cheesecake Filling
This classic cheesecake filling consists of cream cheese, eggs, sugar, cornstarch, and heavy cream. It is important that you warm your cream cheese to prevent lumps when all the ingredients are incorporated together. This will ensure you get the ideal creamy texture.
I find the easiest way to do this is to let the cream cheese packages sit in hot water for about 10 minutes, however, you can use your microwave instead if you wish (take them out of the packages first).
Using your stand mixer, or a large bowl, add the softened cream cheese with the sugar and mix well to combine. The eggs can be added next, one at a time. Once they are incorporated, add the cornstarch then heavy cream. It is easiest to do this on the lowest setting of your stand mixer using the paddle attachment, but using an electric mixer, or mixing by hand also works.
The cheesecake filling is poured into the graham cracker crust and baked at 350 degrees for 1 hour, or until the interior reaches 150 degrees. Since the filling temperature is the most important part, your exact baking time can vary.
How to Prevent Cracking
For best results, it is important not to overbake your cheesecake or it will crack. A cheesecake is done when the filling reaches 150 degrees and is still slightly wobbly. The filling will continue to firm up as the cheesecake cools.
However, it is important not to just throw the finished cheesecake in the fridge immediately. Sudden temperature changes can cause the cheesecake to crack. Instead, let the cheesecake cool on your counter for 4 hours, or until it reaches room temperature. Then it can be placed in the refrigerator.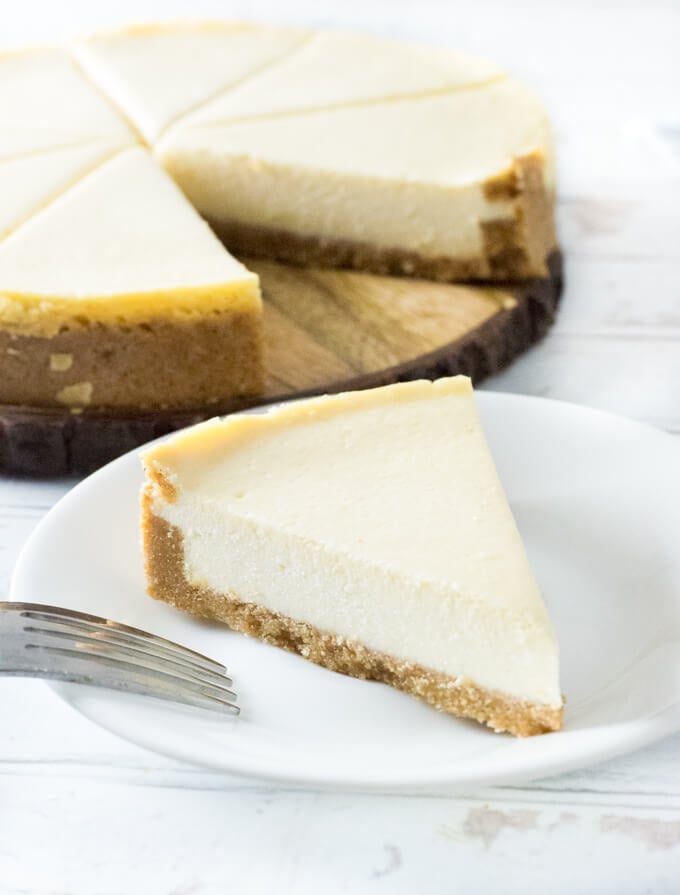 Cheesecake Water Bath
Confession. I have never used a water bath when making a cheesecake, but I know some people SWEAR by them, so I want to quickly explain the process so you have the option to utilize it if desired.
Basically, the water bath keeps the cheesecake moist, bakes it more evenly, and helps prevent cracking. To create the bath, wrap the bottom of your springform pan in multiple layers of foil, to prevent water from seeping in. Alternatively, or in addition, you can use an oven bag for greater protection.
Once your cheesecake has been protected from encroaching water, place the springform pan inside a larger baking dish, such as a lasagna pan, and add an inch or so of water, until it reaches 1-2 inches below the top of the cheesecake. At this point, you are ready to bake!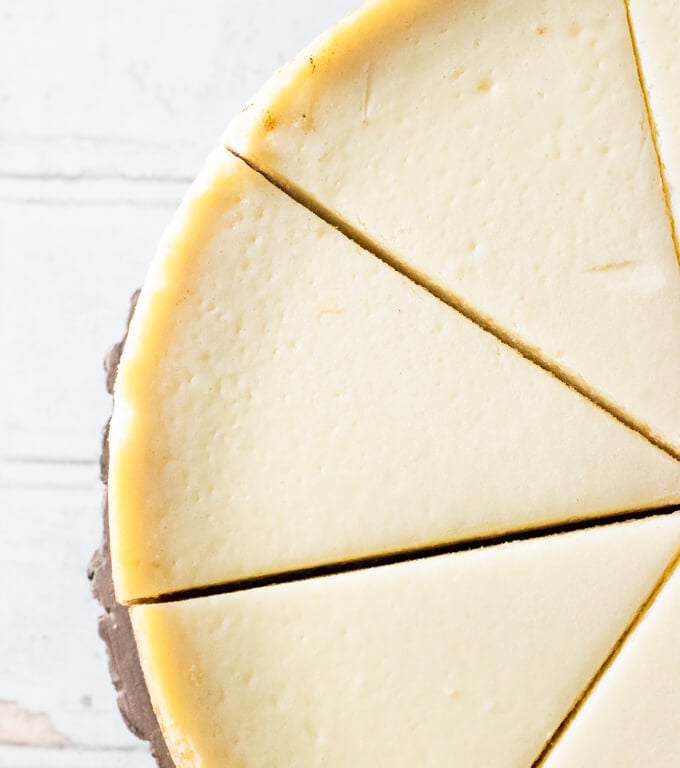 How to store cheesecake
Cheesecake can easily absorb odors in your refrigerator if it is exposed to too much air so it is important to store it in an airtight container, or covered tightly in plastic wrap or aluminum foil. The cheesecake should be eaten within a week, or it can be frozen for longer storage.
How to Customize This Cheesecake Recipe
A classic cheesecake is certainly great to enjoy, but there is no reason you can't jazz it up and put your own twist on this recipe. The filling can be doctored with vanilla, fresh fruit, chocolate chips, or even Andes Mints. These all can be mixed in, or just placed on top. You can add a topping of fresh berries or your favorite fruit syrup.
Alternatively, if you want a completely different idea, try my Banana Pudding Cheesecake for an easy no-bake cheesecake recipe!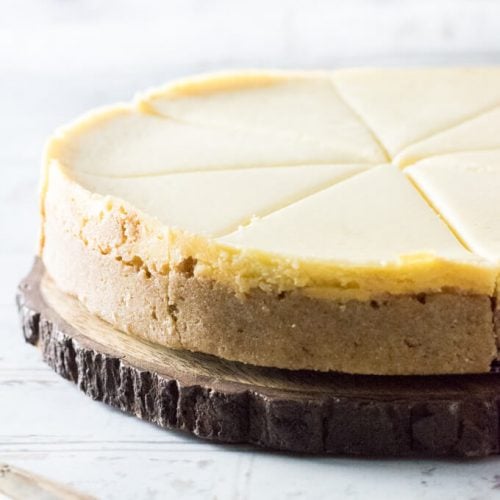 Cheesecake Recipe Without Sour Cream
This classic cheesecake recipe is sure to be the perfect fix for when that rich and creamy craving hits, or the ideal dessert for your special event.
Print
Pin
Rate
Save
Saved
Ingredients
Graham Cracker Crust
18

graham crackers

(two packages from a 15 ounce box)

1 ½

sticks

butter

(melted)

5

tablespoons

sugar
Cheesecake Filling
4,

8 ounce packages

cream cheese

1 ¼

cup

sugar

2

eggs

2

tablespoons

cornstarch

½

cup

heavy cream
Instructions
Graham Cracker Crust
Preheat oven to 350 degrees.

Break up the 2 packages of graham crackers in the bag and then place them in the food processor to grind them further and add the sugar to incorporate.

Pour graham mixture into a bowl and use a fork to mix in the butter. (Pouring the butter into the food processor tends to over-process the crust)

Using an 8″ or 9″ springform pan, flip it upsidedown so the lip side is facing down. (This will allow the cheesecake to slide off easiest.) Fill the bottom with a layer of crumbs and press evenly throughout with the back of your hand, working it up the sides of the pan as well.

Bake the crust at 350 degrees for 10 minutes. Cool on the stovetop while making the filling.
Cheesecake Filling
While the crust is baking, take the 4 packages of cream cheese and place in a bowl. Fill the bowl with hot tap water and let stand for 10 minutes. (This will ensure a smooth filling with no lumps and easy incorporation of the other ingredients.)

Cut each package open and squeeze the cream cheese into the bowl of your stand mixer and add 1 ¼ cups of sugar. Mix until smooth.

Add two eggs, one at a time and let incorporate, then add the cornstarch. Place mixer on low speed and slowly add the heavy whipping cream.

Pour the mixture on top of the crust and bake for 1 hour.

The cheesecake will still be wobbly when done baking and have an internal temperature of at least 150. To prevent cracking, don't over bake.

Let your cheesecake cool to room temperature prior to placing it in the refrigerator.
Notes
Tip: To ensure clean slices run your knife under hot tap water after every slice is cut.
IF YOU LIKED THIS RECIPE you will love my Eggless Cookie Dough Crack Dip too!
Nutritional Information
Calories:
512
kcal
|
Carbohydrates:
65
g
|
Protein:
4
g
|
Fat:
27
g
|
Saturated Fat:
15
g
|
Cholesterol:
107
mg
|
Sodium:
382
mg
|
Potassium:
87
mg
|
Fiber:
1
g
|
Sugar:
46
g
|
Vitamin A:
814
IU
|
Calcium:
46
mg
|
Iron:
1
mg