This creamy Chicken Salad with Grapes and Pecans is easy to throw together in advance and makes a delicious lunch or potluck dish.
Welcome to mid-April! We are getting so close to potluck season I can taste it! Well, maybe not in Wisconsin. We are still in the clutches of Old Man Winter who seems to be like the grown child who refuses to move out of Mother Nature's basement. There are literally buds on the trees and snow on the ground. Nonetheless, I am going to warm up the season myself by whipping up this potluck classic, Chicken Salad with Grapes and Pecans!
What is Chicken Salad
Chicken Salad is a creamy mixture of tender shredded (or cubed) chicken, chopped vegetables such as celery and onion, and bright seasonings and herbs. Beyond this Chicken Salad with Grapes and Pecans recipe, there are many different ingredients you can add to chicken salad to customize it to your tastes, apples, walnuts, avocados, and even hard-boiled eggs are popular additions. Or you can keep it deliciously simple with my classic chicken salad recipe.
Is Chicken Salad Healthy?
The classic ingredients in chicken salad, by and large, are very healthy. The chicken is low in fat, and most of the remaining ingredients are fresh fruits and vegetables. The only thing not particularly healthy is the mayo mixed in for creaminess. To create a healthier chicken salad, plain Greek yogurt is a great substitution.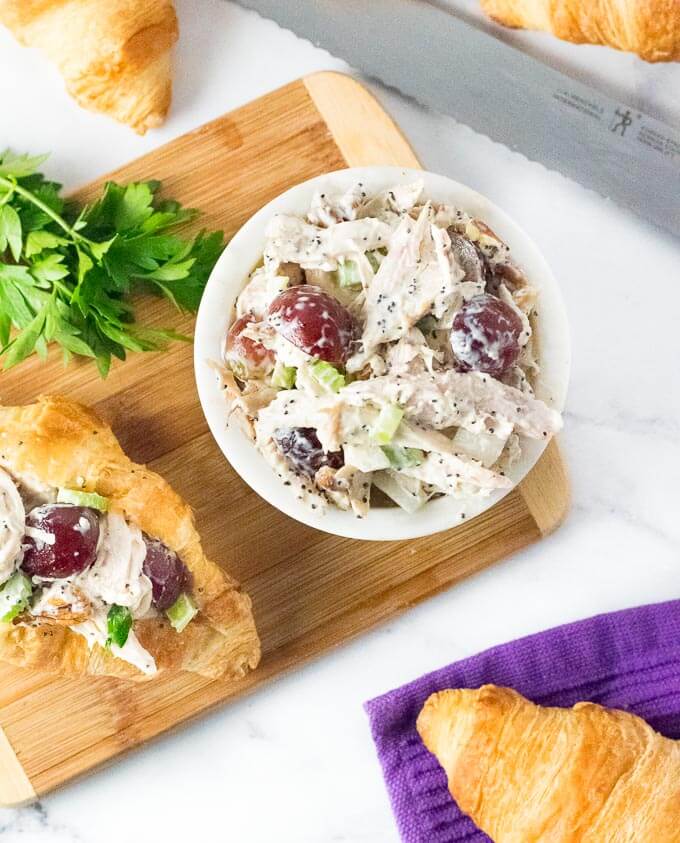 How to Make Chicken Salad with Grapes and Pecans
My favorite hack is to always make chicken salad with rotisserie chicken. It is pre-cooked, easy to shred, yields the perfect amount of meat, and is exceptionally flavorful. What else could you want?
To make a really creamy chicken salad I recommend mixing all of the ingredients first without the chicken, then add the chicken shreds last. The reason for doing this is because the chicken tends to break apart into smaller shreds the more it is mixed. The finer the chicken shreds become, the most mayo will be needed to make the chicken salad creamy (more surface area needs more mayo to cover). You can always add more mayo to add creaminess, but it is best with hearty chunks of chicken.
Since the grapes are larger, I find the ideal ratio is using twice as many grapes by volume, as pecans. However, you can certainly adjust the amounts to fit your own tastes.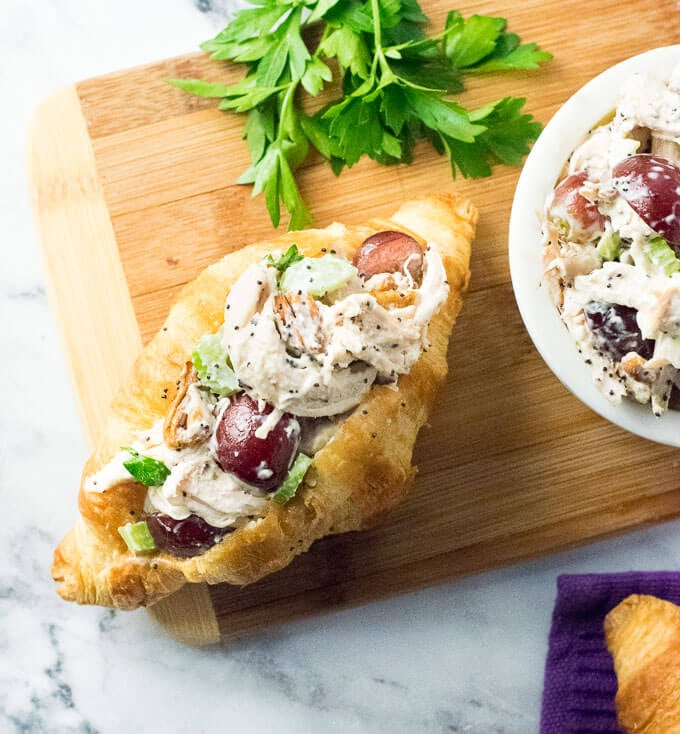 How to Serve Chicken Salad with Grapes and Pecans
The flavor will always be best when you allow the chicken salad to sit in the refrigerator overnight. However, there is no shame in enjoying it right away either. If you are serving this at a potluck where it will be sitting out at room temperature for many hours, I recommend serving it in a chilled serving bowl to keep food poisoning at bay.
The chicken salad can simply be enjoyed with a fork, otherwise, it makes an exceptionally flavorful sandwich when paired with artisan bread or a croissant. For a low carb alternative, wrap the chicken salad in butter lettuce.
Chicken Salad with Grapes and Pecans
This creamy Chicken Salad with Grapes and Pecans is easy to throw together in advance and makes a delicious lunch or potluck dish.
Print
Pin
Rate
Save
Saved
Ingredients
3

cups

cooked and cooled shredded chicken breast

(or use 1 rotisserie chicken)

½

cup

Mayo

1

stalk

Celery

(chopped)

½

medium

Onion

(chopped)

1

tablespoon

chopped Parsley

1

tablespoon

Poppyseeds

1

tablespoon

Dijon mustard

1

teaspoon

Lemon juice

¼

teaspoon

Salt

¼

teaspoon

Fresh ground pepper

1

cup

chopped Grapes

½

cup

rough chopped Pecans
Instructions
Mix all ingredients except the chicken in a large bowl until combined.

Add chicken and mix to incorporate.

Set in the fridge overnight, or serve immediately. The flavor is best when it is allowed to sit.

Serve on bread for a sandwich, or in a bowl to be enjoyed by itself.
Notes
Mixing the chicken into the other ingredients last will help you achieve a creamier chicken salad.  If the chicken is over mixed it has a tendency to break down too much and will soak up more of the mayo. You can always add more mayo to increase the creaminess if needed.
IF YOU LIKED THIS RECIPE check out my Classic Seafood Salad too!
If you enjoyed reading my Chicken Salad with Grapes and Pecans recipe then you should probably like me on Facebook and follow me on Pinterest too. That's what I would do at least, because if you don't get to know me but you still use my recipe it is kind of like taking candy from a stranger, and your mom taught you not to do that. Don't disobey your mom, subscribe to Fox Valley Foodie today.