This versatile Bavarian cream filling recipe is perfect for stuffing your favorite pastries and desserts. Bavarian cream is delicious served simply with fresh fruit, but this sweet pastry cream filling is also great for pies, cream puffs, and more!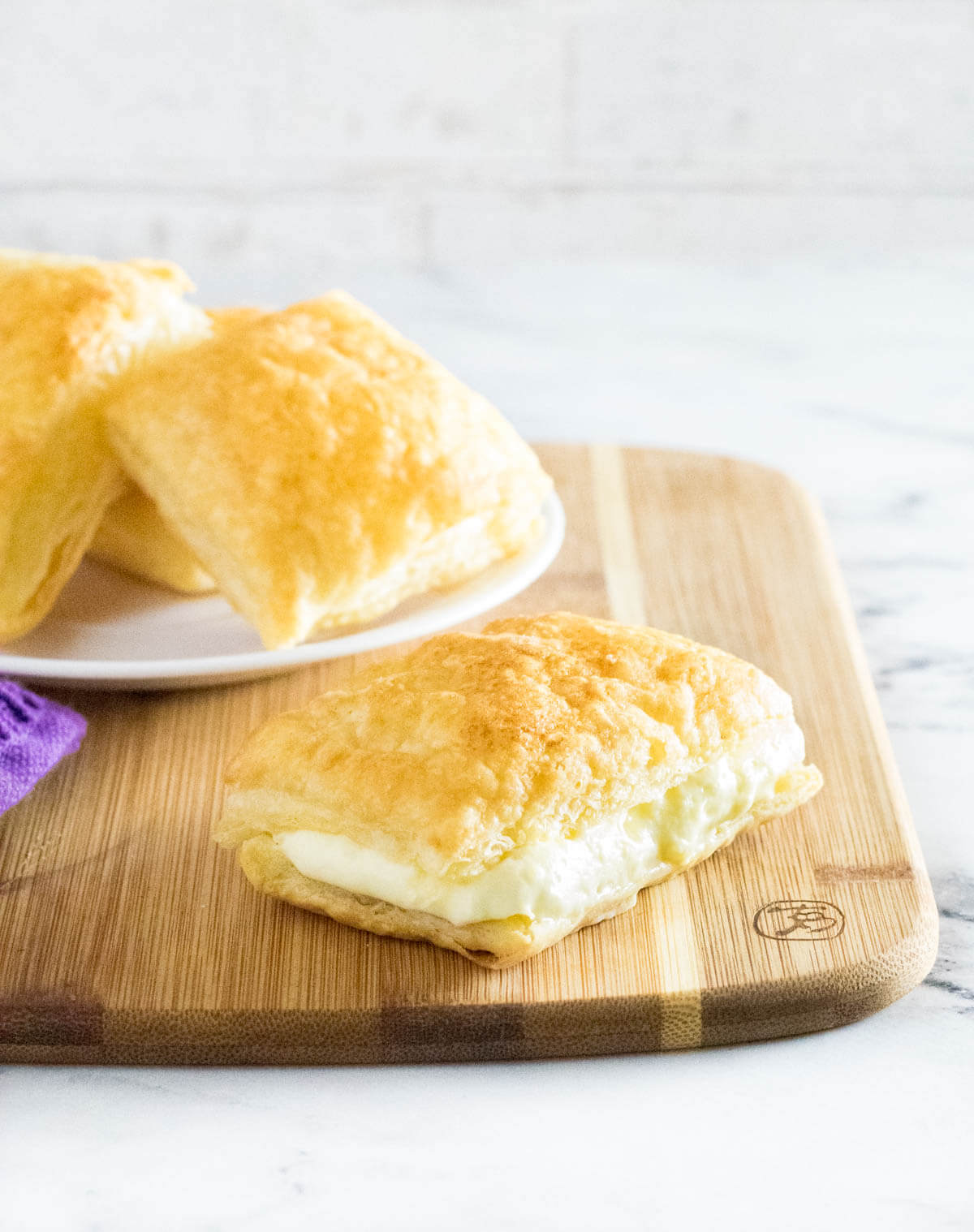 What is Bavarian Cream?
Bavarian cream, known as Bayerische creme in German, is one of the quintessential German desserts. Although this thick custard vanilla-based filling is often credited to the French chef Marie-Antoine Carême with its creation in the late 1800s. This delicious dessert is commonly fortified with gelatin and set into molds to form its shape prior to serving.
Ingredients Needed
Heavy whipping cream
Vanilla extract - A vanilla bean can be substituted and simmered with the heavy cream instead.
Unflavored Gelatin
Milk - Cold water can be substituted if needed.
Sugar
Eggs
Whipped cream
How to make it
Begin making your Bavarian cream by prepping the ingredients. The heavy cream and vanilla extract can be combined in a small saucepan. The Gelatin and milk should be mixed together and allowed to rest in a small bowl. And the sugar and egg yolks should be added to a separate medium bowl, then whisk egg yolks to fully combine with the sugar. (The egg whites can be discarded or used for another purpose)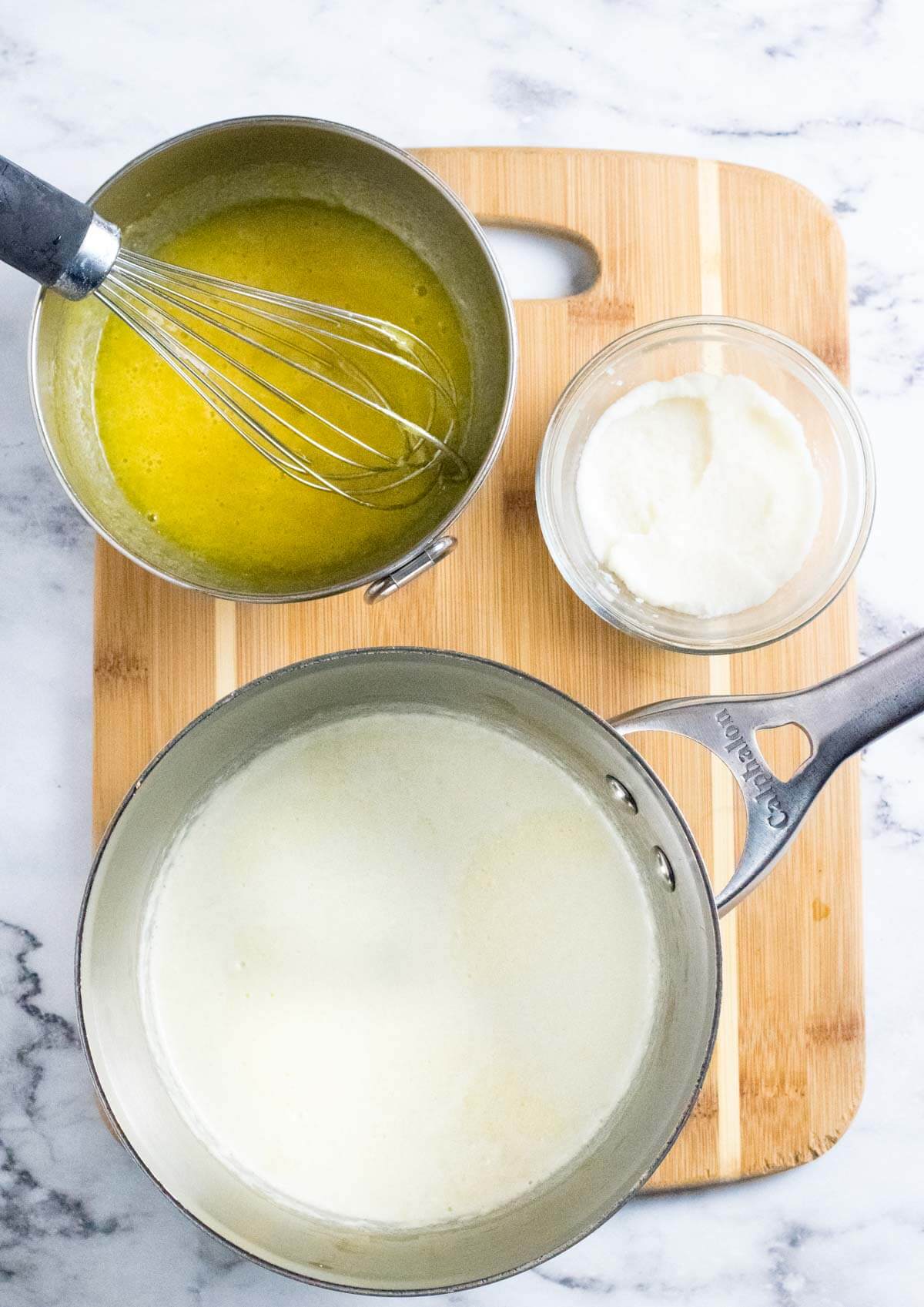 Set the saucepan with heavy cream on the stovetop over medium heat and bring to a simmer, then shut off the heat and let cool slightly. Working with a couple of spoonfuls at a time, ladle small amounts of the warm cream into the bowl with the egg mixture to temper the eggs. It is important not to add too much hot cream at once or the eggs will curdle. If you are unsure of yourself, you can let the heavy cream cool to room temperature first.
Tip: If eggs curdle you can either start over or strain out the curds.
Once all of the cream and egg yolks have been combined add the mixture to a double boiler set over boiling water. Let the mixture cook until it thickens like a pudding then remove from heat and stir in the bloomed gelatin and milk mixture. Next, fold in the whipped cream.
Your Bavarian cream will firm up as it sets, so it can be placed in molds to shape as desired. Place it in the refrigerator until fully chilled.
How to serve it
Place in molds and serve topped with a fruit puree, fresh berries. or other fresh fruit.
Use as a filling for a pie.
Serve on puff pastries.
Use for Bavarian cream donuts.
Use as a filling for chocolate cupcakes.
Use as a cake filling inbetween cake layers. This woudl be particularly delicious with chocolate cake!
How to store it
Your Bavarian cream needs to be refrigerated because it is made with dairy and egg products. It is best placed in an airtight container, or cover in plastic wrap, to avoid odors from the fridge altering its flavor. Enjoy within 3 to 5 days.
More Delicious Desserts
Can you do me a favor? If you enjoyed my post would you mind sharing it with your friends? You can see more of my recipes by liking me on Facebook and follow me on Pinterest too. Otherwise, stay up to date by getting each new post sent directly to your inbox by subscribing today.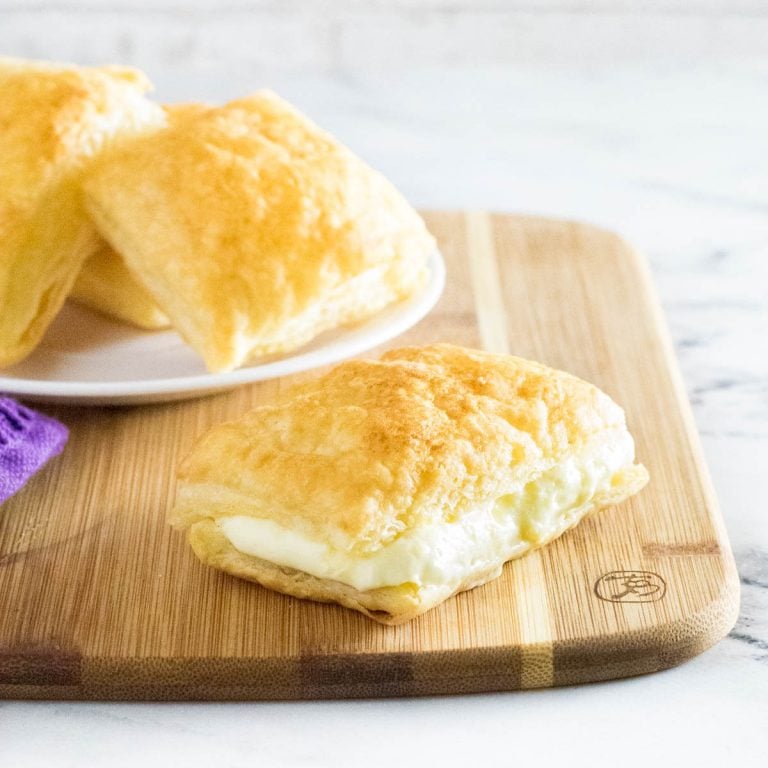 Bavarian Cream Filling
This versatile Bavarian cream filling recipe is the perfect choice for stuffing your favorite pastries and desserts.
Print
Pin
Rate
Save
Saved
Ingredients
1

cup

heavy cream

2

teaspoon

vanilla extract

1

tablespoon

gelatin

¼

cup

milk

¼

cup

sugar

4

egg yolks

1

cup

whipped cream
Instructions
Combine heavy cream and vanilla extract in a small saucepan and bring to a simmer then shut off heat.

Combine gelatin and milk in a small bowl and set aside.

Mix together sugar and egg yolks in a separate bowl, then slowly add a couple of splashes of warm heavy cream at a time while whisking. Continue to do this until all of the cream has been added to the egg yolk mixture.*

Return the egg and cream mixture to the saucepan and place over a double boiler with the water boiling. **

Stir the cream as it cooks in the double boiler until it has thickened like puddling and coats the back of a spoon well.

Remove from heat and add the gelatin mixture, then stir to combine.

Place Bavarian cream filling in molds to set, or add to your desired dessert or pastry. Refrigerate until chilled.
Notes
*Adding warm cream helps temper the eggs. However, you can let the cream come to room temperature prior to mixing with the eggs so you don't have to worry about curdling the eggs. Curdling can be avoided if adding the heated cream slowly enough. 
**If you do not have a double boiler, you can set a small saucepan inside of a medium saucepan filled with a couple inches of water.
Note: If you don't want the cream to firm up so much, you can leave out the milk and gelatin and thicken the mixture with a little cornstarch instead as a thickening agent to keep it more pudding-like, similar to Boston Cream pie filling.
Nutritional Information
Calories:
247
kcal
|
Carbohydrates:
12
g
|
Protein:
4
g
|
Fat:
20
g
|
Saturated Fat:
12
g
|
Polyunsaturated Fat:
1
g
|
Monounsaturated Fat:
6
g
|
Cholesterol:
193
mg
|
Sodium:
28
mg
|
Potassium:
73
mg
|
Sugar:
10
g
|
Vitamin A:
841
IU
|
Vitamin C:
1
mg
|
Calcium:
64
mg
|
Iron:
1
mg