These Baked Lobster Tails are basted in butter and finished with a squeeze of lemon for an entre as simple as it is refined.
Ever have a lovely lobster dinner date with your two-year-old daughter? If not, I highly recommend it. You see, my wife doesn't like seafood, so I sat down for a lobster dinner with my toddler. She was all smiles at the table until it was time to eat. At which point chaos ensued and airborne lobster and baked potatoes flew across the table amidst a random temper tantrum spurring a dramatic eviction of my daughter's plate.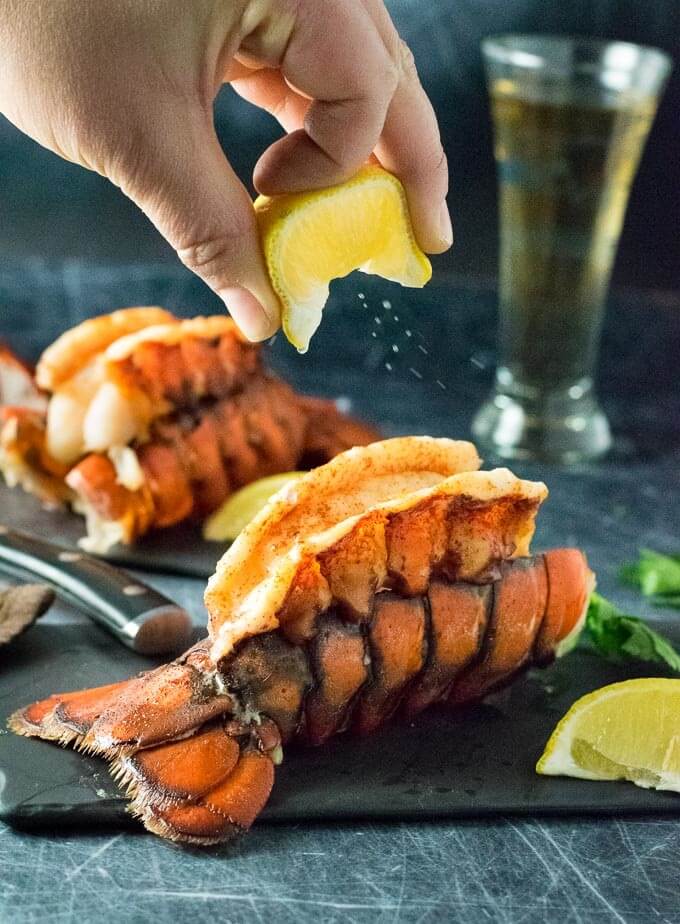 This is probably why most people don't buy lobster for toddlers. Oh well, more for me!
The truth is, there is no better meal to show someone how special they are to you than baked lobster tails. Baked lobster tails are elegant, refined, yet incredibly easy to prepare.
How to Bake Lobster Tails
There are a few important considerations to baking lobster tails. First of all, you always want to use thawed lobsters. If you have frozen lobsters, either thaw them out in the fridge or if you are pressed for time, seal them tightly in a bag and place in a bowl water. If you bake frozen lobster the exterior will be tough and chewy before the interior is cooked.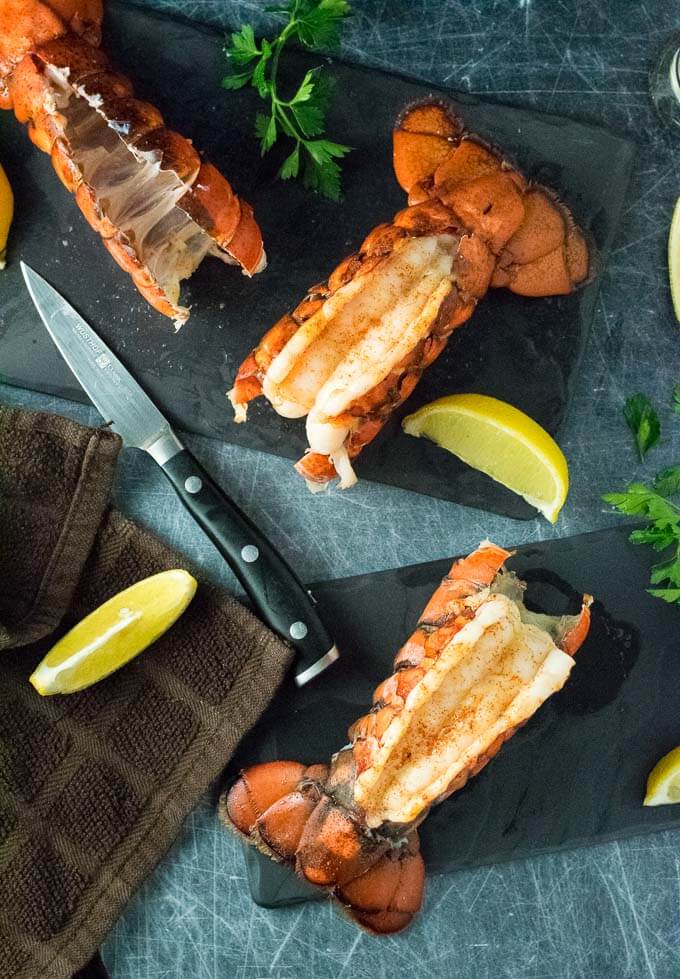 Bake lobster tails at 425 degrees. Generally, it is recommended to plan for approximately 1 ½ minutes per ounce. However, this is just a guideline and cooking times can vary. I use a digital meat thermometer to ensure my lobster meat is at 140 degrees, then I know it is done.
There isn't a more classic combination than lobster and butter. My Butter-Basted Baked Lobster Tails recipe not only highlights this traditional combo, it provides a great starting point for further customization. I season the tails lightly with garlic powder, paprika, and salt, but you can add your own favorite seasonings too. White pepper, parmesan cheese, and parsley are other great additions.
This post contains affiliate links. Any Amazon purchases made through these links earn me a small fee that I can spend friviously at no cost to you.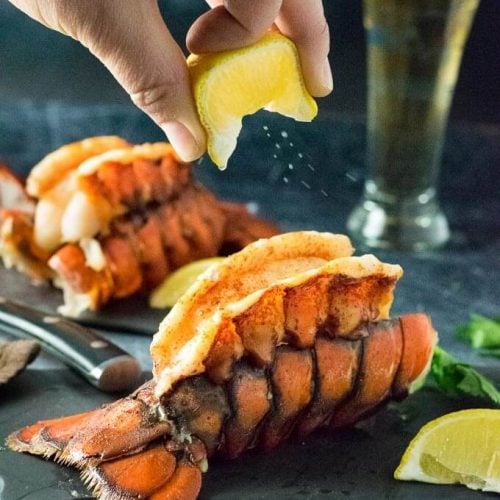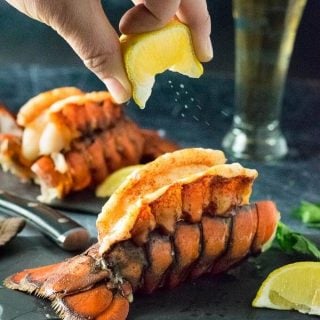 Butter-Basted Lobster Tail
These Baked Lobster Tails are basted in butter and finished with a squeeze of lemon for an entre as simple as it is refined.
Print
Pin
Rate
Save
Saved
Ingredients
4

lobster tails

2

tablespoon

butter

(cubed)

sea salt
Instructions
Preheat oven to 425 degrees.

Using a kitchen shears, cut the shell down the topside length of the tail to where the meat connects at the end.

Place the shell on its side and press firmly with your hands to gently crack the bottom of the shell to allow you to gain access to the meat inside.

Placing the shell cut-side up, pull the meat through the cut and place on top of the shell.

Placing in baking dish, spread out the tail fins and season lobster meat with a dusting of salt, garlic powder, and paprika then place cubes of butter on top of each tail.

Add just enough water to cover the bottom of the baking dish, ~¼".

Bake for approximately 1 ½ minutes per ounce, or until lobster meat reads 140 degrees with a digital thermometer. Flesh should be white and firm.
Serving
Brush lobster tail with additional melted butter, or serve on the side, and wedge of lemon for squeezing.
If you enjoyed reading about my Butter-Basted Baked Lobster Tails recipe then you should probably like me on Facebook and follow me on Pinterest too. That's what I would do at least, because if you don't get to know me but you still use my recipe it is kind of like taking candy from a stranger, and your mom taught you not to do that. Don't disobey your mom, subscribe to Fox Valley Foodie today.