This shop has been compensated by Collective Bias, Inc. and its advertiser. All opinions are mine alone, as always. #BTSSpirit #CollectiveBias #SweetSquad
This Ultimate Candy Bar Banana Split is an exceptionally decadent dessert featuring not only chopped bits of Milky Way®, but also a tantalizingly caramelized sugar-glazed banana.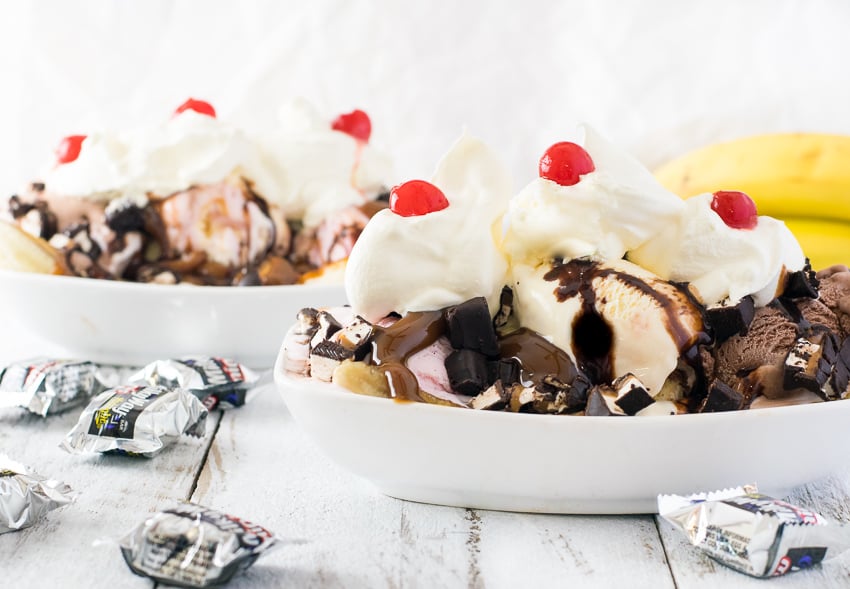 Walking through stores this past weekend, I can see back to school season is out in full force. Even as an adult, I still look at the bulk bins of folders, pencils, and other school supplies with weary trepidation. Though I'm no longer concerned about the looming fate awaiting me at the end of August, as I was as a child, I think after 16 years of schooling I've developed a Pavlov type reaction to summer ending.
Truth is, I actually liked school. I even get excited about my children going back to school. Well, maybe not my daughter. She is going to be 1 year old forever... it'll be great. If I were willing to admit it, I even liked back to school shopping, there was just something exciting about getting to pick out new supplies, not to mention discarding the battle-worn folders and notebook from the previous year. With the new Ghostbuster movie coming out, I'm even excited for the nostalgia of walking down memory lane, seeing Ghostbuster themed school supplies hitting the shelves again.
Heck, I still even have one of my notebooks from 20+ years ago. I couldn't find something to write on, so I brought it with me to a banker meeting a few months back, when I still worked for a financial institution.  My co-workers got a good laugh at my old, raggedy, discolored, and torn notebook that had more soccer strategies drawn up in it than actual classroom notes.
I still fondly remember that school year, we had a hard teacher, but I was her favorite. I guess I've just always been lovable. It must be my enviable humility. One of my most memorable projects that year was earning a banana split for reading books.  The more books we read, the more pieces of the banana split we earned. Over the course of a few weeks we were able to track our progress by constructing our banana splits with the construction paper cutouts of bananas, ice cream, and toppings; displaying them on the wall as a marker to nearing our goal.
Quite honestly, I don't know if I've had a banana split since then. Well, that needs to change. This year I'm breaking out the banana split project again, I think it is a great way to encourage kids to do well in school. Though, my banana split isn't your run-of-the-mill banana split, it features bruleed bananas to add an additional layer of flavor, plus plenty of soft and chewy Milky Way® Midnight Miniatures chopped up and ready to add a contrasting texture to each bite.
I recently stocked up on treats from Walmart, including a Mixed Mini Variety Bag, SNICKERS® Mixed fun sized variety, and Milky Way® Midnight Miniature. Any of the content of these bags would make a fantastic addition to this Ultimate Candy Bar Banana Split, however my personal recommendation is to use the Milky Way® Midnight Miniature.
Walmart even has bottles of Ghostbuster themed M&M's® Milk Chocolate just in time for the new Ghostbusters movie, which would also make for a fantastic after school treat!  Keep your eye out for an in-store coupon saving you $.75 off a bottle until September 30th.
Ultimate Candy Bar Banana Split
This Ultimate Candy Bar Banana Split is an exceptionally decadent dessert featuring not only chopped bits of Milky Way®, but also a tantalizingly caramelized sugar glazed banana.
Print
Pin
Rate
Save
Saved
Ingredients
1

in

banana

sliced half lengthwise

2

teaspoon

sugar

divided

1

scoop vanilla ice cream

1

scoop strawberry ice cream

1

scoop chocolate ice cream

5

Milky Way® Midnight Miniatures

chopped

~1

tablespoon

chocolate sauce

~1

tablespoon

caramel sauce

3

scoops whipped cream

3

maraschino cherries
Instructions
Sprinkle sugar on the cut surface of the banana. Place face-down in a skillet on medium heat and sear for 30-60 seconds, or until sugar begins to brown and caramelize. (Alternatively: If you have a kitchen torch, brulee the sugar-glazed bananas instead)

Place banana slices on opposite sides of a long dish and add one scoop of each ice cream flavor inbetween.

Top ice cream with a generous sprinkling of chopped Milky Way® Midnight Miniatures.

Drizzle chocolate and caramel sauce over the top.

Add a scoop of whipped cream over each scoop of ice cream and top with cherries.

Serve immediately.
With the Mixed Mini Variety Bag there are an unlimited ways you can customize this banana split, pick up a bag today and whip up something special!
If you enjoyed reading my Ultimate Candy Bar Banana Split recipe then you should probably like me on Facebook and follow me on Pinterest too. That's what I would do at least, because if you don't get to know me but you still use my recipe it is kind of like taking candy from a stranger, and your mom taught you not to do that. Don't disobey your mom, subscribe to Fox Valley Foodie today.