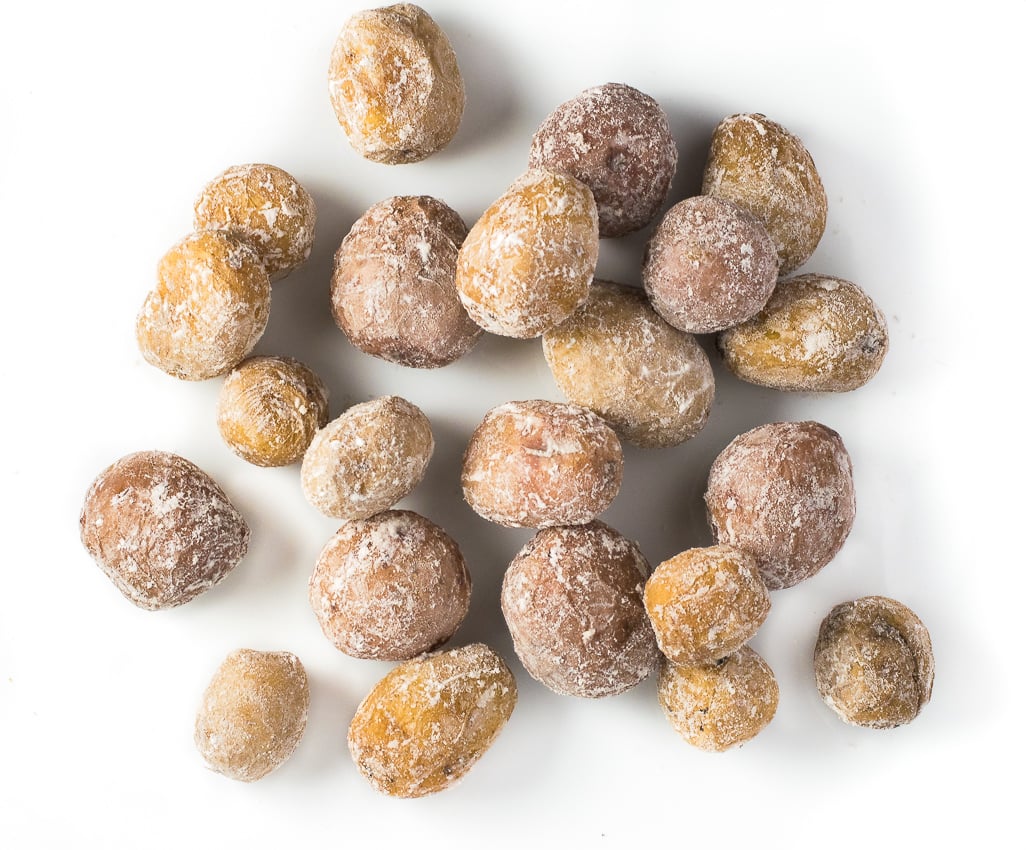 Attention salt lovers, this recipe is for you! Salt Crusted Potatoes are a sodium laden Colombian side dish known as Papa Salada, and they are dehydrating delicious! Encased in a crust of kosher salt, this recipe may be too salty for the meek, but for those who can brave the brine you will be rewarded with the most uniquely delectable boiled baby potatoes to ever dance on your taste buds!
So why would anyone want to cake baby potatoes in a crust of salt? The salt dries out the exterior of the potato, while thinning the skin. At the same time, the long boiling time transforms the interior potato into a light, fluffy, almost creamy, filling that practically explodes in your mouth when bitten! If you find they are too salty for your tastes, just give them a quick rinse.
Or if you want to be mean, just tell someone they are frosted donut holes. I'll approve of that too.
I find sour cream to be a great condiment for dipping Salt Crusted Potatoes. However, you can amp up your condiment's flavor by creating my simple Cilantro Lime Sour Cream. I would omit adding any additional salt to the Cilantro Lime Sour Cream for this application.
Your cooking time will vary depending on how much water you use, and how wide of a pot is used. A wider pot will evaporate faster, so if you are looking to cut down the cooking time try using a Dutch oven instead of a soup pot. I use a Lodge Dutch Oven which has a fairly wide opening.
The above link is an affiliate link. Any Amazon purchases made through these links help support FoxValleyFoodie.com at no additional cost to you.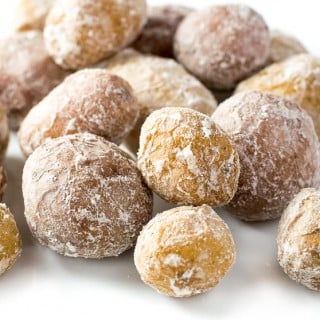 Salt Crusted Potatoes - Papa Salada
Salt Crusted Potatoes, known as Papa Salada, are boiled in a salty brine till a delectably creamy potato emerges coated in a crust of salt!
Print
Pin
Rate
Save
Saved
Ingredients
2

lbs

Baby Potatoes

½

cup

kosher salt

not table salt

Sour cream for serving
Instructions
Place water and salt in a large pot and stir to dissolve.

Add potatoes and ensure there is enough water to cover.

Bring to a boil and let cook until all of the water evaporates out.

Optional: If they are too salty for your family's taste, you can rinse them to remove some salt.

Serve with sour cream.
Notes
I learned of this recipe on Food Network, however the actual recipe is inspired from Serious Eats.
If you enjoyed my Salt Crusted Potatoes - Papa Salada recipe then you should probably like me on Facebook and follow me on Pinterest too. That's what I would do at least, because if you don't get to know me but you still use my recipe it is kind of like taking candy from a stranger, and your mom taught you not to do that. Don't disobey your mom, subscribe to Fox Valley Foodie today.