I love cast iron cookware. As a matter of fact my New Year's resolution was to use my cast iron skillets for every meal possible this year, and I am loving it. Nothing heats more evenly, retains heat better or is more indestructible. The versatility cast iron provides is unsurpassed. Eggs slip and slide, meats nicely brown, and pan sauces rise out of the accumulated fond.
A few years ago for Christmas I received my first cast iron pans; two new Lodge skillets from my mother (one of my best Christmas presents). I enjoyed cooking with them but I was annoyed by the rough pebbled surface new pans have. The surface roughness is due to Lodge spraying vegetable oil onto the hanging cookware before it enters an oven to create the initial base seasoning.  The result is a pre-seasoned pan that often feels like a small geological formation.

To achieve my desired smooth finish I decided to sand off my base factory seasoning down to the metal and start from scratch. Lodge does not machine grind their pans so they will never be as glassy smooth as some older brands, but still major improvements to your pan's finish can be made.

It took a bit of effort but I am quite happy with the smoothness it yielded. It isn't a necessary step, but if I am going to have the pan for decades I want to make it my own. I love the idea of being able to pass this pan along to someone special someday and being able to tell them that I built the pan from scratch. Cast iron is equally a celebration of history and heritage as it is cooking.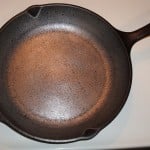 Cast iron is cheap so don't skimp by purchasing skillets from most big box stores, they replace quality with celebrity names and fancy logos. You will likely end up getting a low quality Chinese product made from inferior metals. Three brands I would readily purchase are Lodge, Wagner Ware, and Griswold. Luckily for you these can be found at similar prices as the cheap brands.
Good Wagner and Griswold pans were manufactured pre-1957, however they can still be found at rummaged sales and online for very reasonable prices. These pans are always extremely smooth from being machine ground and relatively lightweight. Unlike most purchases, don't be wary of buying a used product. This is one instance where a used item is superior to its new counterparts.
Lodge skillets are still being made in America and can be found at fine culinary outlets like Fleet Farm. Lodge is easily the best brand of cast iron on the market today though I would still recommend an old Wagner or Griswold skillet first due to their smoother surface.  Though, compared to many of the other big box store brands of cast iron, Lodge is still relatively smooth. Nonetheless, even the rough finished Lodge pieces will make an exceptional nonstick surface.

The best places to purchase cast iron are not in stores. Instead, it is at rummage sales, Craigslist, and Ebay. Ebay will give you the largest selection and if there is something specific that you are looking for that is the place to go. However, rummage sales and Craiglists will reward the diligent searcher with some great finds at excellent prices. As long as the pans aren't cracked or warped, the condition doesn't matter. So don't be afraid of rust or dirt. A cast iron pan is practically indestructible and can be restored to its former glory with a little effort. However, that is a topic for a future post.
I am currently on the lookout for more cast iron cookware. Bonus points if it is rusty or really dirty. If you stumble upon any around the Valley at rummage sales this summer, please use my contact page to let me know.