This post has been sponsored by Simply Beverages®. All thoughts and opinions are my own.
These Grilled Kielbasa Kabobs are skewered with sweet peppers and tangy pineapple then painted with a balsamic honey glaze. 
Are you ready to have a cookout? Grab some hot dogs and hamburgers. Another cookout? More hot dogs and hamburgers. Invited to a cookout, get ready to eat even more hot dogs and hamburgers. Come on guys, we are better than this! Now, don't get me wrong, I enjoy a juicy hot dog and grilled burger as much as the next guy, but an entire summer grilling season without variety gets BORING.
I get why people grill hot dogs and hamburgers, they are pretty easy. However, adding some variety to your grill doesn't mean it needs to be difficult. Since kielbasa comes already pre-cooked, a tantalizing skewer of these Grilled Kielbasa Kabobs isn't any more difficult than making hot dogs really.
Of course, what is a cookout without all of the fixin's? Head to Sam's Club to pick up plenty of refreshing Simply Lemonade®. When served ice cold on a sultry summer day, there is no better way to beat the heat while waiting for the food to cook!
Personally, I don't think I can have a cookout without serving chips with the meal. They have been a favorite treat of mine for a long as I can remember. One of my all time favorites has to be Pringles®. You can pick up a six pack Super Stack Variety Pack of Pringles® at Sam's Club to ensure everyone can enjoy their favorite flavor! Find your nearest store here!
How to Grill Kielbasa Kabobs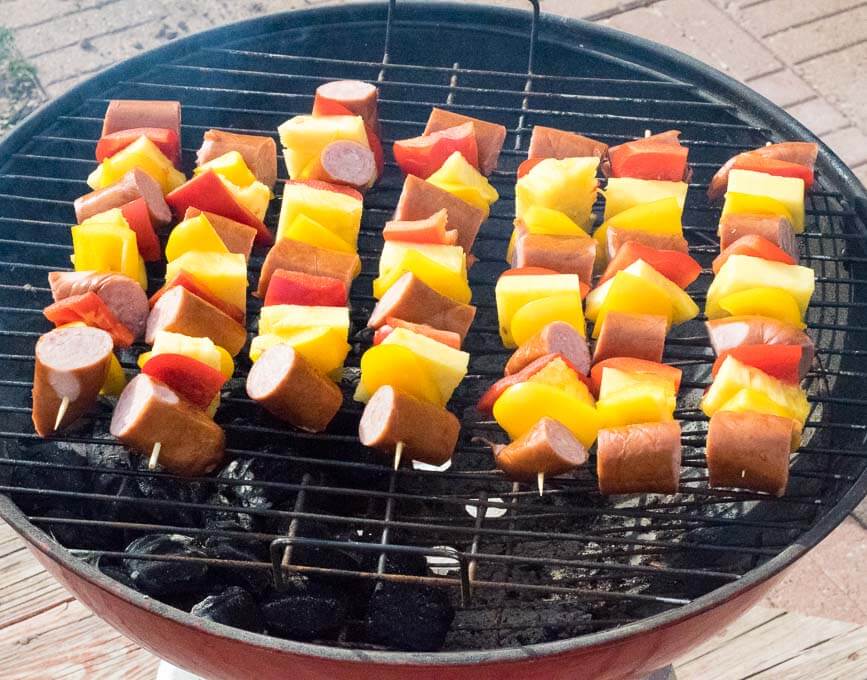 You can make grilled kielbasa kabobs on charcoal or propane grills with excellent results. When using a regular charcoal kettle grill, light your briquettes and then pour them to one side of the grill (as shown above). This is called "zone heating". The purpose for doing this is to create a hot spot that cooks food quickly while allowing the further reaches of the grill to be cooler so food can keep warm without burning. Simply line up the kabobs in a straight line and keep moving them every few minutes like a conveyor belt during cooking to ensure they all get time over the coals.
If using a propane grill you typically have far more control over the heat. However, grilling temperature varies wildly from grill to grill. For example, my father's grill chars anything that is grilled above the lowest setting. To grill kabobs over propane, start all burners on the lowest setting and turn up the temperature as needed till you find an adequate balance of heat without instantly burning everything.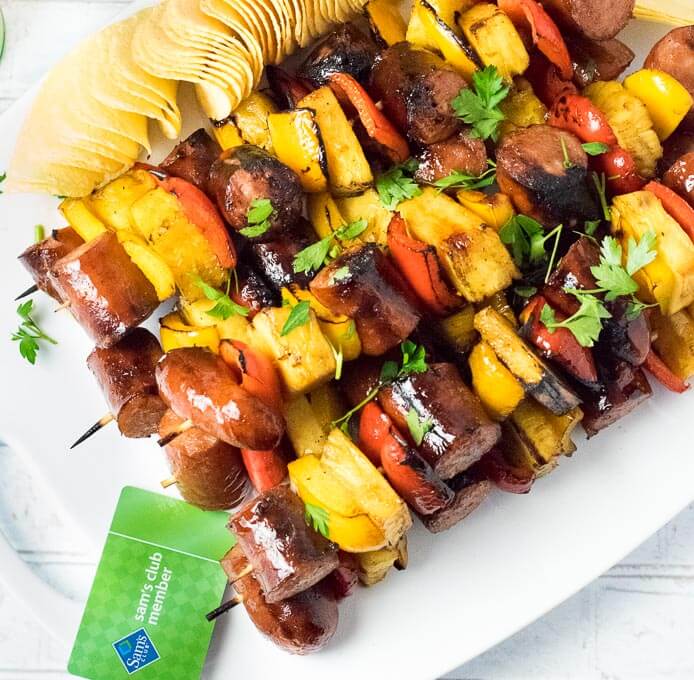 How to Make Balsamic Honey Glaze
The Balsamic Honey Glaze adds a nice layer of flavor to the kabobs and is simple to prepare. Balsamic Vinegar and Honey simply needs to be combined in a dish with a little salt and pepper, then it can be painted on the kabobs as they cook. The sugars in the glaze will also help the kabobs char slightly as it grills. I recommend reserving a little glaze for the end of cooking and giving your kabobs one last coat prior to serving.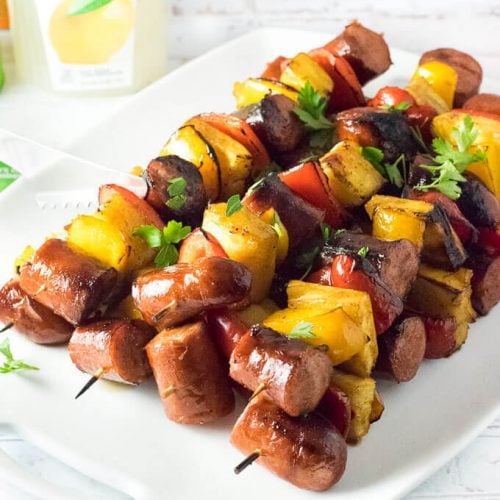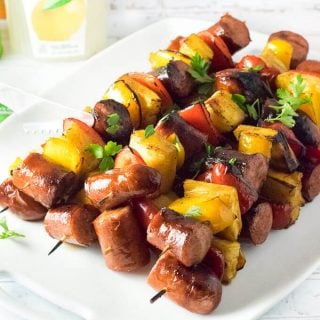 Grilled Kielbasa Kabobs with Balsamic Honey Glaze
These Grilled Kielbasa Kabobs are skewered with sweet peppers and tangy pineapple then painted with a balsamic honey glaze.
Print
Pin
Rate
Save
Saved
Ingredients
3

14 oz

Kielbasas

(Cut into 2" chunks)

2

Yellow peppers

2

Red peppers

1

Pineapple
Balsamic Honey Glaze
½

cup

Honey

⅓

cup

Balsamic Vinegar

¼

teaspoon

Fresh ground pepper

¼

teaspoon

Salt
Instructions
Balsamic Honey Glaze
Prepare glaze by combining all ingredients in a small bowl, then set aside.
Kielbasa Kabobs
Chop peppers into 1-2" squares.

Prepare pineapple by cutting off the exterior skin, top, and bottom, so only the flesh remains. Cut pineapple into 1-2" chunks, discarding the core.

Add ingredients to skewers, alternating kielbasa, red pepper, pineapple, then yellow pepper. Repeat until all ingredients have been used.

If using a charcoal grill, light briquets in a chimney starter and pour the hot coal out over 1 half of the grill, leaving the other side empty.

Lightly oil grill grate with a paper towel to prevent sticking, then lay the kabobs on the grill in a straight line.

Periodically rotate kabobs from front to back, over the coals, to ensure they cook evenly. Turn the kabobs as needed to allow each side to cook. and periodically brush with glaze, reserving some for the end.

Kabobs are done with kielbasa is heated through and starting to blacken slightly.

Paint with any remaining glaze and serve immediately.
Nutritional Information
Calories:
170
kcal
|
Carbohydrates:
43
g
|
Protein:
1
g
|
Sodium:
93
mg
|
Potassium:
310
mg
|
Fiber:
2
g
|
Sugar:
35
g
|
Vitamin A:
1210
IU
|
Vitamin C:
167.7
mg
|
Calcium:
28
mg
|
Iron:
0.9
mg
If you enjoyed reading my Grilled Kielbasa Kabobs with Balsamic Honey Glaze recipe then you should probably like me on Facebook and follow me on Pinterest too. That's what I would do at least, because if you don't get to know me but you still use my recipe it is kind of like taking candy from a stranger, and your mom taught you not to do that. Don't disobey your mom, subscribe to Fox Valley Foodie today.