Beef lo mein is a classic Asian takeout dish that is easy to make at home and customize to fit your tastes!
Prior to familiarizing myself with Asian recipes, I enjoyed ordering lo mein takeout but hesitated to make it at home. I suspect that is the case for many Midwesterners. In reality, it is not a difficult dish to prepare at all. Instead, the unfamiliarity of some of the ingredients was intimidation enough. Actually, lo mein is so simple, I had our nine-year-old prepare this meal when I was recipe testing!
Beef Lo Mein
Beef lo mein is a Chinese dish containing egg noodles, thin cuts of beef, and stir-fried vegetables. Variations of this dish include chicken, pork, seafood, or strictly vegetarian options. You can substitute your favorite protein in this recipe if you wish.
Lo Mein Vegetables
The vegetables I use in my beef lo mein recipe are snow peas, carrots, and green onions. However, you do not need to limit yourself to just these options. Feel free to substitute 2-3 cups of your favorite stir fry vegetables such as cabbage, bok choy, red pepper, and broccoli. Any traditional stir fry vegetable will make a great substitution.
Best Cut of Beef for Lo Mein
You can typically find "stir fry beef" at your grocery store. It is reasonably priced, and it works. However, my favorite cut of beef for lo mein is flank steak. When sliced thinly across the grain it is exceptionally tender and flavorful, yet still reasonable in cost. Any of your favorite cuts of steak can be adequate substitutions if needed.
Tip: The easiest way to thinly slice flank steak is freezing it for 1-2 hours before slicing. This firms up the meat so you can make more effortless cuts.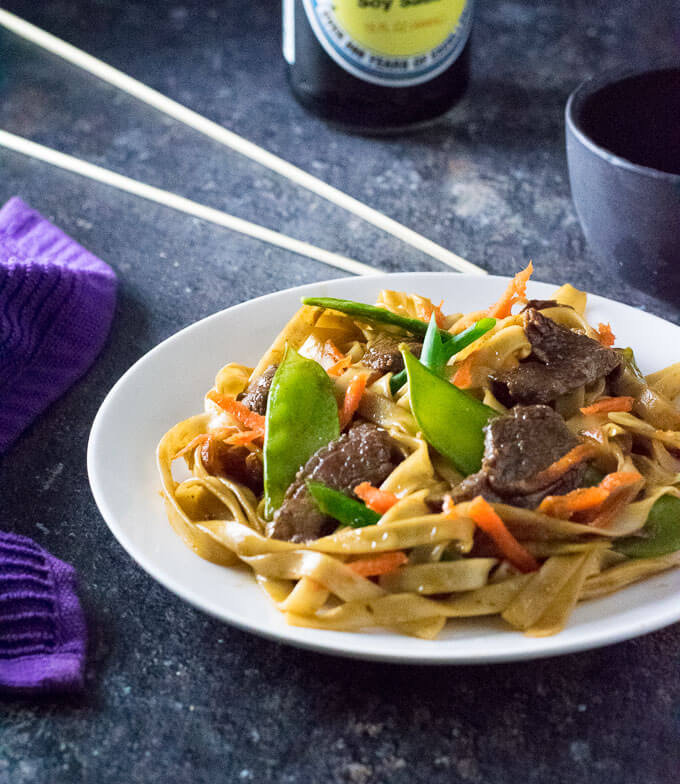 Velveting Beef
To make a restaurant quality beef lo mein, you will want to velvet your beef. Velveting your meat is a simple process that coats the beef in a cornstarch barrier and a flavoring, such as soy sauce, then briefly cooking it in oil prior to adding it to the stir fry.
I have also seen velveting instructions that include egg whites and baking soda. However, my personal favorite way is to use 1 teaspoon of cornstarch with 2 teaspoons of soy sauce for 8 ounces of beef and let the meat marinate for 30 minutes before cooking.
This not only adds great flavor, but it also provides the meat with the glossy sheen shown in the photos and helps keep it moist and tender when stir frying. Chicken and seafood can be velveted as well.
Lo Mein Noodles
You will find lo mein noodles in the Asian food aisle of the grocery store. Most stores will have a variety of brands to choose from. However, in a pinch, you can use spaghetti or fettuccine noodles. The texture won't quite be the same, but the meal will still taste good.
How to Make Beef Lo Mein
Traditionally, authentic lo mein is prepared in a wok (affiliate link). Admittedly, I do not stick to traditional methods, as I use a 12" non-stick skillet (affiliate link) instead. You are welcome to use either, and you will still get great results.
The basic concept is the same with either cooking vessel. Briefly cook the beef in oil, then remove it from the skillet prior to adding your vegetables and cooking a few additional minutes until tender. Finally, everything can be combined together and heated through. Simple, right?
Beef Lo Mein
Beef lo mein is a classic Asian takeout dish that is easy to make at home and customize to fit your tastes!
Print
Pin
Rate
Save
Saved
Ingredients
8

ounces

lo mein noodles

2

tablespoons

sesame oil

8

ounces

flank steak

(thinly sliced)

2

teaspoons

soy sauce

1

teaspoon

cornstarch

1

carrot

(shredded)

2

cloves

garlic

(minced)

2

teaspoons

ginger root

(minced)

¼

teaspoon

fresh ground black pepper

3

green onions

(2" slices)

1

cup

snow peas
Sauce
¼

cup

reduced sodium soy sauce

1

tablespoon

oyster sauce

2

teaspoons

Asian chili paste

1

tablespoon

brown sugar
Instructions
Add thinly sliced beef to a large storage bag (or container of your choice) along with cornstarch and two teaspoons of soy sauce. Let marinate for 30 minutes.

Prepare noodles according to package instructions, and set aside.

Prepare the sauce by mixing soy sauce, oyster sauce, chili paste, and brown sugar together.

Heat oil in a large skillet over medium high-heat and saute beef until almost cooked through, then remove and set aside.

Add carrots and additional oil if needed, saute for 1-2 minutes, add garlic and ginger, cooking for an additional 1 minute. Then add remaining vegetables, seasonings, and sauce. Cook for 1-2 minutes, or until vegetables are heated and beginning to soften and sauce has reduced slightly.

Add beef and noodles to the skillet and toss all ingredients to ensure they are heated through and combined.
Notes
If you do not have sesame oil on hand, you can use regular cooking oil.
IF YOU LIKED THIS RECIPE check out my Panda Express Chow Mein copycat recipe too.
Nutritional Information
Calories:
374
kcal
|
Carbohydrates:
49
g
|
Protein:
19
g
|
Fat:
11
g
|
Saturated Fat:
2
g
|
Cholesterol:
34
mg
|
Sodium:
1028
mg
|
Potassium:
296
mg
|
Fiber:
2
g
|
Sugar:
4
g
|
Vitamin A:
355
IU
|
Vitamin C:
16.8
mg
|
Calcium:
34
mg
|
Iron:
1.9
mg