Cook up a juicy brined Cornish hen bird infused with soy, ginger, and a touch of wasabi with this flavor-packed recipe. This flavorful bird is perfect for grilling over charcoal, however, it can be baked in the oven as well for simplicity. This recipe will explain how to do both.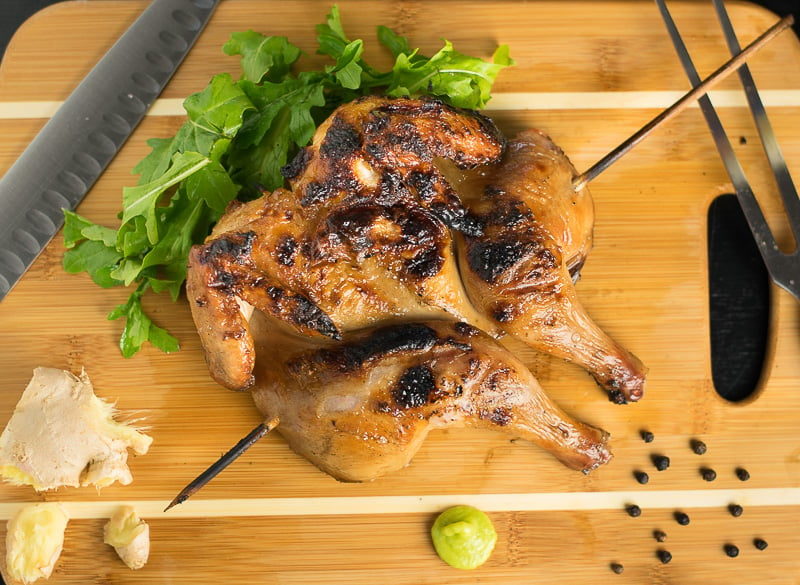 What are Cornish hens?
Cornish game hens are a fantastic smaller-sized young chickens that are perfect for pairing down portion sizes or when you'd like to trim back cooking time for cooking a whole chicken. Traditionally, this chicken is around two pounds when it is butchered and sold.
What is brining?
If you have never brined meat before, it is a miraculous process that saturates the meat with flavor.  By soaking the meat in a salty solution the meat will absorb the flavors of the brine and hold in a lot more juices while cooking. The end result is a juicier, more flavorful bird. Since it is not your run-of-the-mill chicken dinner, a brined Cornish hen is a surefire way to impress the family!
Ingredients Needed
Cornish Hens
Kosher Salt
Sugar
Water
Soy sauce
Fresh Ginger
Wasabi paste
Black Peppercorns
Garlic cloves
How to brine a Cornish game hen
The first part of preparing this cornish hen brine can be done in advance. The brine ingredients get added to a large pot or saucepan and boiled for 10 minutes, to allow the sugar and salt to dissolve. Then the brining solution needs to be cooled to at least room temperature. If you start bringing the meat while it is still hot you will cook the meat.
Once cool, pour the brine into a large sealable plastic bag or other large container and add the little cornish hens as well. It is best to place the bag inside a rimmed baking dish or sheet pan in case there are any leaks. Then place everything in the refrigerator and let brine for two hours.
At this point, remove the hens from the liquid, discard brine and rinse with cold water. Finally, pat dry with paper towels. Set them on a cutting board to be spatchcocked then proceed with cooking.
How to grill a Cornish hen
Grilling is my favorite method because there is no sweeter music than the sound of poultry skin crisping over charcoal. Plus, the added flavor of meat roasting over charcoal cannot be replicated in the kitchen. Still, I understand sometimes we long for the simplicity of baking food in the oven, so I have included instructions for that as well.
To grill a Cornish hen, I recommend the spatchcock method by which you cut out the backbone so you can lay the bird flat on the grill, as shown in the picture below.  It allows for more even heat distribution, as well as better contact for more crispy skin. For more tips and tricks on grilling poultry, check out my write-up on grilling chicken over charcoal.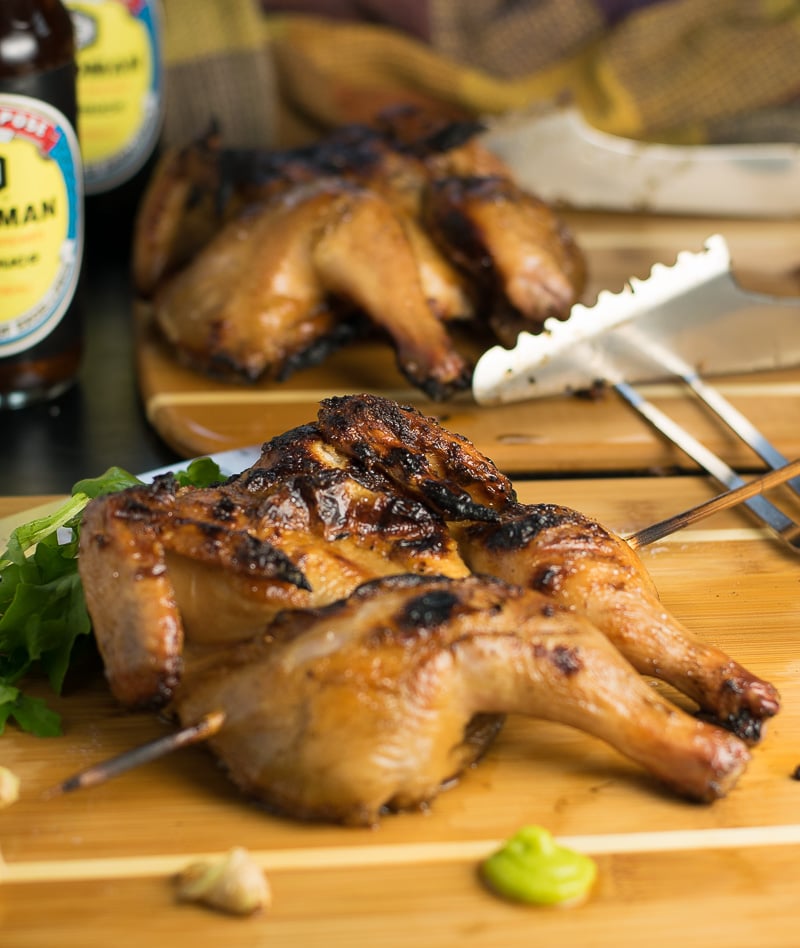 Begin grilling by placing your hens, breast side up, directly over the hot charcoal, which you should place only on one side of the grill. Leave the meat to cook until the skin begins to blacken. Next, flip the breast side down and repeat until the skin blackens on this side too.
At this point use your instant-read thermometer to check for doneness. If the meat has not yet reached 165 degrees, move the hen away from the hot coals and let finish cooking on the cooler side of the grill.
How to roast a Cornish Hen in the Oven
If you prefer the simplicity of baking your Cornish hen, this recipe is well suited for that too. First, heat oven to 400 degrees and set your spatchcocked hen on a wire rack set on a rimmed baking sheet or roasting pan.
Cook hens for 40 minutes in the oven, or until your digital oven thermometer shows an internal temperature of 165 degrees. The baking time can vary which is why I recommend relying on a thermometer rather than a clock.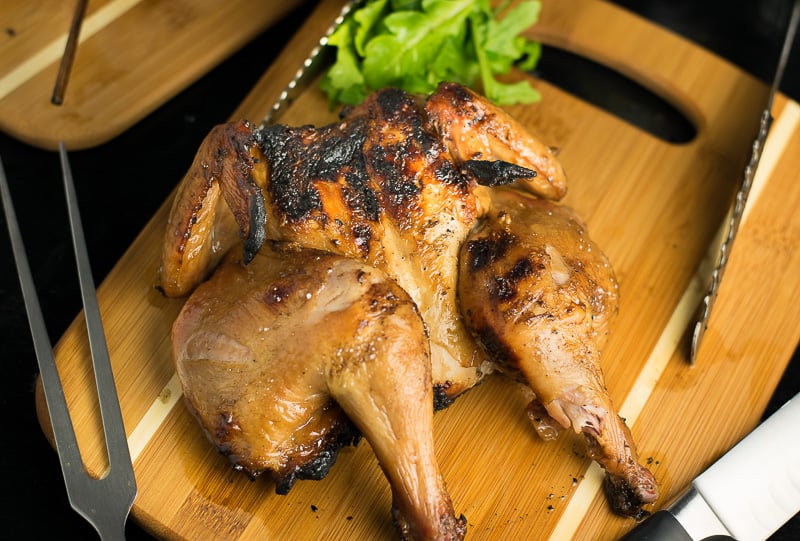 What to serve with your Cornish hen?
Can you do me a favor? If you enjoyed my post would you mind sharing it with your friends? You can see more of my recipes by liking me on Facebook and follow me on Pinterest too. Otherwise, stay up to date by getting each new post sent directly to your inbox by subscribing today.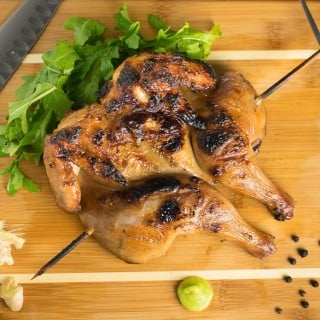 Brined Cornish Hen
Cook up a juicy brined Cornish hen bird infused with soy, ginger, and a touch of wasabi with this flavor-packed recipe.
Print
Pin
Rate
Save
Saved
Ingredients
Brine
½

cup

Kosher Salt

4

tablespoon

Sugar

4

cups

Water

½

cup

Kikkoman Soy

¼

cup

rough chopped fresh Ginger

¼

teaspoon

Wasabi paste

14

Black Peppercorns

2

cloves

Garlic

crushed
Instructions
Brining
Add all brine ingredients to a saucepan and boil for 10 minutes to allow sugar and salt to fully dissolve.

Place brine in the fridge to cool. - These first steps can be done ahead.

Cut out the backbone of each Cornish hen with a strong kitchen shears so they are able to lie flat.

Place thawed Cornish hens in a gallon storage bag and pour in brine and ensure birds are fully submerged.

Let the Cornish hens brine for 2 hours.

Remove from bag, rinse under cold water and pat dry.
Grilling
Place hens on grate over hot charcoal, breast side up and let cook till the bottom begins to blacken. The time will vary depending on the heat of your coals.

Flip so the breast side is down and let cook till the skin crisps and begin to blacken.

Use a meat thermometer to check for doneness. If the meat has not reached 165 degrees move the birds away from direct heat so they can continue cooking without burning.

Let rest 10 minutes and serve along with a dollop of wasabi.
Oven Roasting
Preheat your oven temperature to 400 degrees.

Set the spatchcocked hen on a wire rack placed in a rimming baking sheet or roasting pan and place it on the center rack of your oven. Bake for approximately 40 minutes, or until the meat temperature reaches 165 degrees.

Remove from the oven and let rest for 10 minutes, then serve.
Notes
Baking time in the oven will vary depending on the size of your hen, which is why I recommend using a digital oven thermometer to monitor cooking progress. 
Nutritional Information
Calories:
517
kcal
|
Carbohydrates:
14
g
|
Protein:
42
g
|
Fat:
32
g
|
Saturated Fat:
9
g
|
Cholesterol:
227
mg
|
Sodium:
15916
mg
|
Potassium:
592
mg
|
Fiber:
1
g
|
Sugar:
12
g
|
Vitamin A:
243
IU
|
Vitamin C:
2
mg
|
Calcium:
49
mg
|
Iron:
3
mg
This recipe was originally published on September 5, 2015, on FoxValleyFoodie.com.