I am on a singular mission here at FoxValleyFoodie.com.  I want to promote fresh food made from scratch around the Fox Valley. Digging through my blog it will not take you long before you uncover my lingering disdain for pre-made frozen food that gets shlepped off the Sysco trucks and passed off as local fare at area eateries. This food does nothing to improve the culinary culture of a community as it is the same drab grub that you can grab from any of a dozen locations.  It does not show off any area grown meats or produce, display any creative innovation or even showcase any local culinary talent. And sadly the Fox Valley is riddled with this.
I have been on a personal mission as of late to find the best fish fry in the Fox Valley and last night's stop was at George's Steak House.  Though the perch was good, and also hand battered, the rest of the meal was typical of what I often find at area restaurants:  Pre-made frozen fries, and a choice of pre-made frozen appetizers made in a factory ready for frying.  Yawn.  Is this really where the bar is set in the Fox Valley?
Do I have my standards set too high?
My faith in restaurants was restored last week during a trip to Madison when I stopped in a small tavern near the Capitol for lunch. They had a limited menu but they focused on doing it right. They were not an Italian restaurant that also serves tacos, or an American eatery that offers a selection of pastas. They had a clear sense of identity.
I ordered a reuben sandwich with poutine.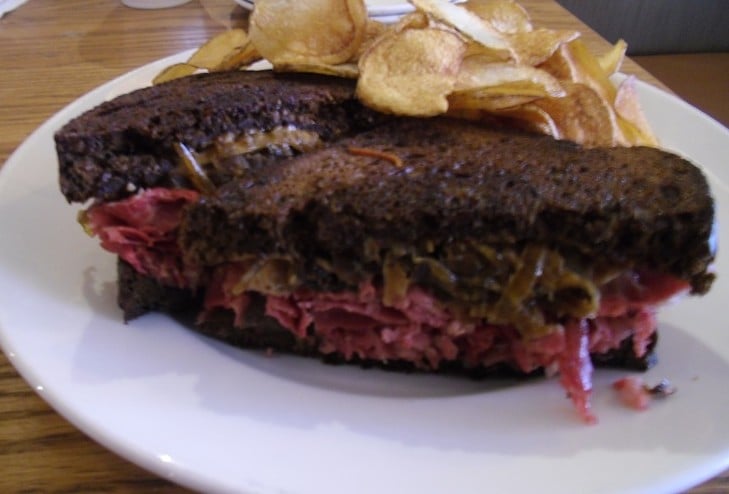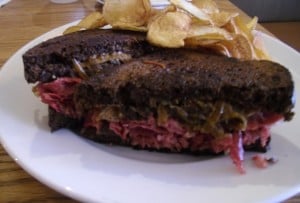 The corned beef was cured in house.  The sauerkraut was soaked in a Scottish Ale, it was served alongside homemade potato chips with a homemade dipping sauce. 
The poutine was crafted with equal care.  The fries were all cut in house, and topped with melted cheese curds and a homemade gravy.
It was delicious and reasonably priced.
Had I ordered that sandwich at most bars or restaurants around the valley it would have consisted of sliced meat from pre-made deli corned beef, sauerkraut from a jar, chips out of a bag or pre-made frozen fries. It would taste like any other sandwich you get from any other restaurant.  However, this meal was different and uniquely theirs.  It offered the customer something special they will only get at that establishment and at the same time showed off their in-house culinary talent.
That is why I love eating in larger cities, I find places like this all over. There is a noticeably different culinary standard set there.  I don't believe most area restaurants are lazy or trying to under serve their clientele, instead I believe we in the Fox Valley just have low standards and expectations of our eateries. Food can be better, meals can be made from scratch, and each restaurant should taste unique.
This is what I want in the Fox Valley.