Sticky and delicious Rice Krispie Treats with chocolate chips are easy to make and a fun snack for everyone to enjoy. Have these treats ready to go in under 15 minutes, with only five simple ingredients.
If you are feeling creative, it is easy to customize this classic favorite with more delicious add-ins and flavors too. This is not only a great treat for the whole family, but it is also perfect to make WITH your kids!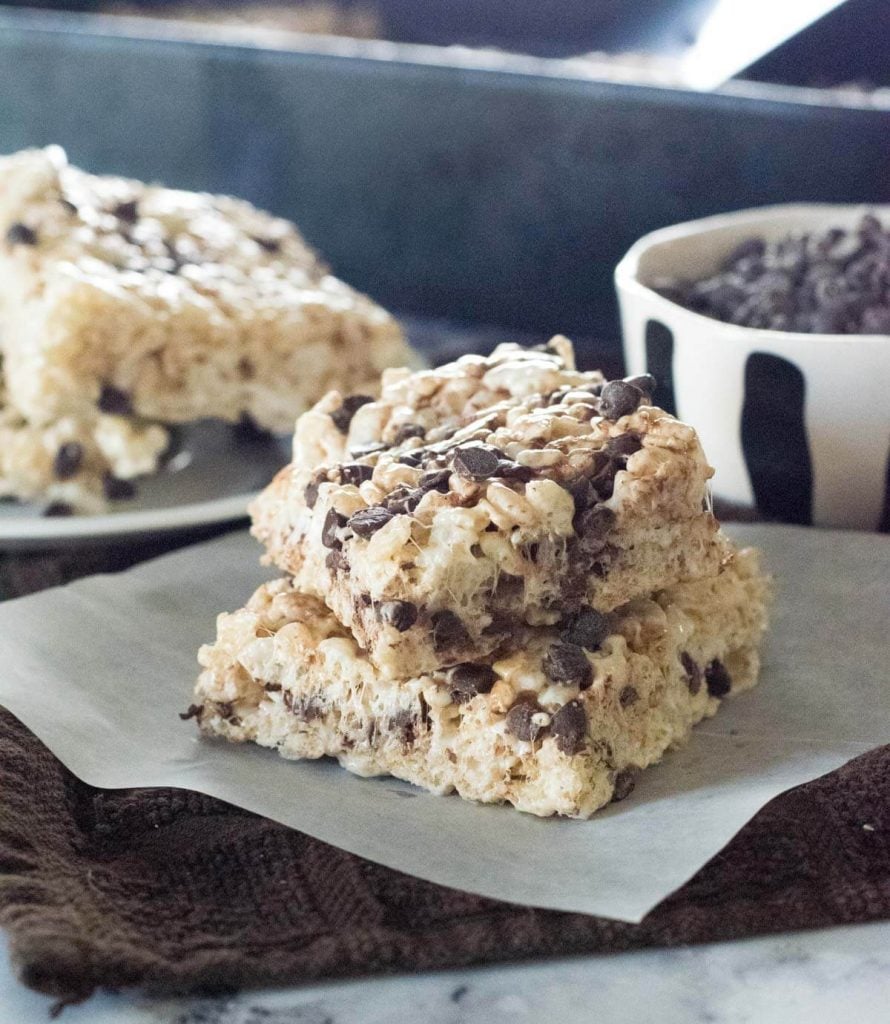 Ingredients and Substitutions
Rice Krispies Cereal - The foundation of this dessert, of course. However, you can make chocolate Rice Krispie treats by swapping out Cocoa Krispies instead.
Butter - I recommend salted butter because the salt adds enhances the flavor, but unsalted butter will also work.
Marshmallows - Mini marshmallows will melt more quickly and evenly. They typically come in a 10 ounce bag, which is exactly what you need for this recipe, so there shouldn't be any extra marshmallows.
Vanilla extract - This can be omitted if you don't have any on hand, but it does add more flavor.
Mini chocolate chips - Milk chocolate works well, but semi-sweet chocolate chips are my favorite to use.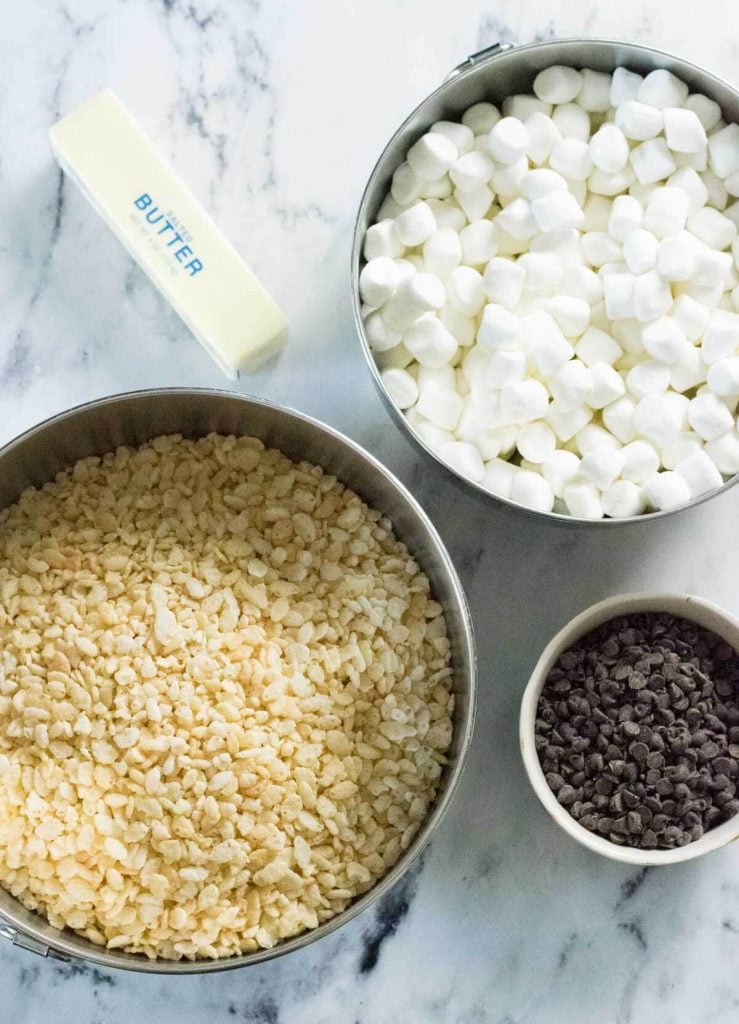 Optional Add-Ins
Besides mini-chocolate chips, there are many additional morsels you can blend into your sticky snack. You are only limited by your imagination, and taste buds. Try any of these ideas:
Mini Reese Peanut Butter Cups (chop if needed)
Peanut Butter - Both crunchy and creamy peanut butter will work!
Caramel
Oreo bits
Cookie Dough chunks - Make sure it is edible cookie dough, without raw eggs.
Or to go a completely different direction, use a different cereal instead. Most kid cereals work great, such as my Fruit Loops Treats!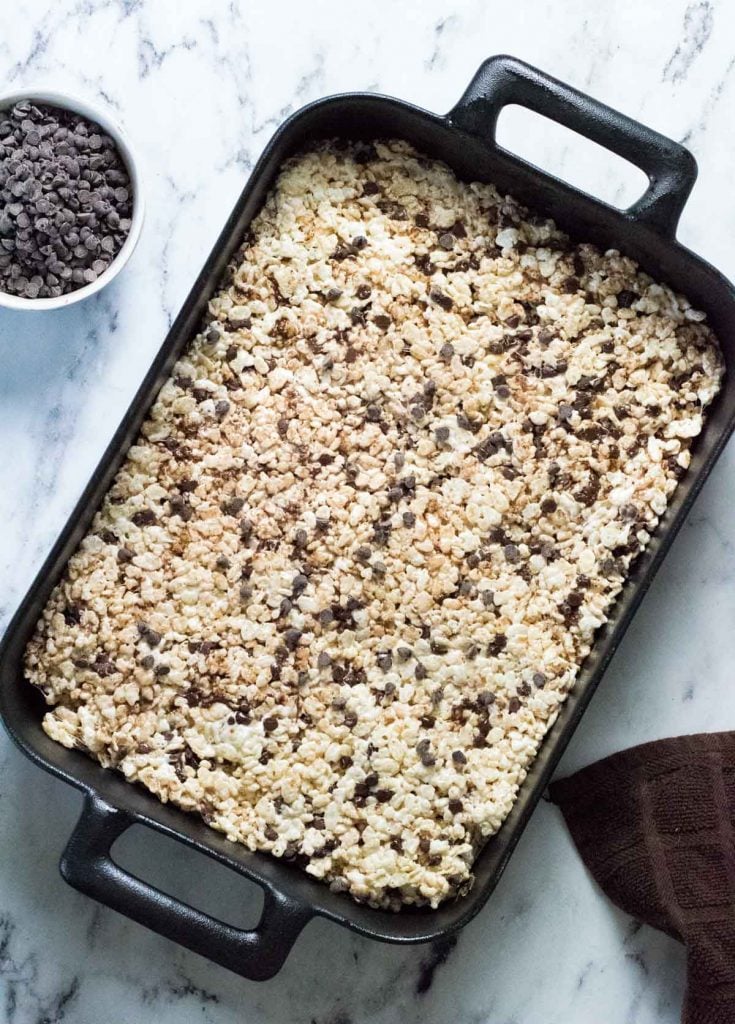 How to make them
The key to making your chocolate chip Rice Krispie treats is not melting the chocolate chips. Luckily, this is pretty easy to accomplish. Begin by pouring the cereal in a large bowl, and set it aside. In a large saucepan, you will melt together the butter, marshmallows, and add vanilla extract over medium heat.
This mixture will be hot, so do not add the chocolate chips yet, or they will melt! However, you should combine the melted marshmallows with the Rice Krispies at this time.
Now we wait. Let the melted marshmallows cool down for seven minutes, then add the chocolate chips and finish mixing. Your treats are now ready to press and cut.
Pour the mixture onto a 9x13" baking pan and press flat. I prefer to grease the pan with nonstick cooking spray so I don't have to worry about anything sticking. Once flattened, you can cut and serve.
Tip: I like using 9x13" cake pans that have a lid so I can use the same pan for storage.
How to make them in the microwave instead
The stovetop is my preferred method, because I like having control over the process by being able to watch what is happening. However, melting the butter and marshmallows in the microwave is just about as easy.
To do this, add the butter to a large microwave-safe bowl, then microwave your butter until it is melted. Once your butter has melted, add the vanilla extract and marshmallows and stir everything to fully coat the marshmallows with melted butter. It will help them melt more evenly.
Return the bowl to the microwave and cook for an additional 30 seconds. Everything should be melting nicely now, but return it to the microwave for a short period of time if they still have a little bit to go.
How to store them
Place a cover over the Rice Krispie treats to prevent air from getting to them and store them in the airtight container on your counter for up to a week. These can be left at room temperature, so there is no need to refrigerate them.
If you wish to condense them into a smaller container it is best to separate them with wax paper so they do not compact into one solid block.
FAQs
How to cut Rice Krispie Treats?
If presentation is important, clean your knife in between cuts to remove sticky marshmallow from the blade. This will ensure each cut looks crisp and clean.
How to create soft Rice Krispie treats?
Only press the Rice Krispie mixture as much as needed to form everything. Pressing too hard, or mixing too much will compact your treats, making them hard.
Can Rice Krispie Treats be frozen?
Yes, you can freeze these in a freezer-safe container for up to three months.
Can you do me a favor? If you enjoyed my post would you mind sharing it with your friends? You can see more of my recipes by liking me on Facebook and follow me on Pinterest too. Otherwise, stay up to date by getting each new post sent directly to your inbox by subscribing today.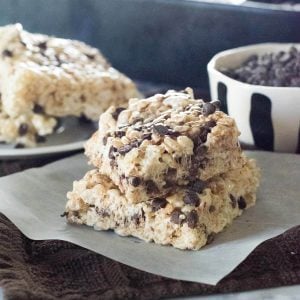 Rice Krispie Treats with Chocolate Chips
Sticky and delicious Rice Krispie Treats with chocolate chips are easy to make and a fun snack for everyone to enjoy.
Print
Pin
Rate
Save
Saved
Ingredients
6

cups

Rice Krispies Cereal

¼

cup

butter

10

ounces

marshmallows

¾

teaspoon

vanilla extract

¾

cup

mini chocolate chips
Instructions
Melt butter in a pot set over medium low heat and stir in marshmallows and vanilla. Keep stiring until marshmallows have melted and combined with the butter.

Add Rice Krispies to a large bowl and pour the melted marshmallows into the bowl and stir to partially combine. Then let sit for seven minutes to allow marshmallows to cool.

Once cooled add the mini chocolate chips and stir to fully combine.

Place the mixture in greased a 9x13" pan and press flat. Cut into squares and enjoy.
Notes
If you don't let the marshmallows cool they will melt the chocolate chips.
Nutritional Information
Calories:
220
kcal
|
Carbohydrates:
39
g
|
Protein:
2
g
|
Fat:
7
g
|
Saturated Fat:
4
g
|
Trans Fat:
1
g
|
Cholesterol:
12
mg
|
Sodium:
134
mg
|
Potassium:
20
mg
|
Fiber:
1
g
|
Sugar:
22
g
|
Vitamin A:
1075
IU
|
Vitamin C:
9
mg
|
Calcium:
16
mg
|
Iron:
4
mg