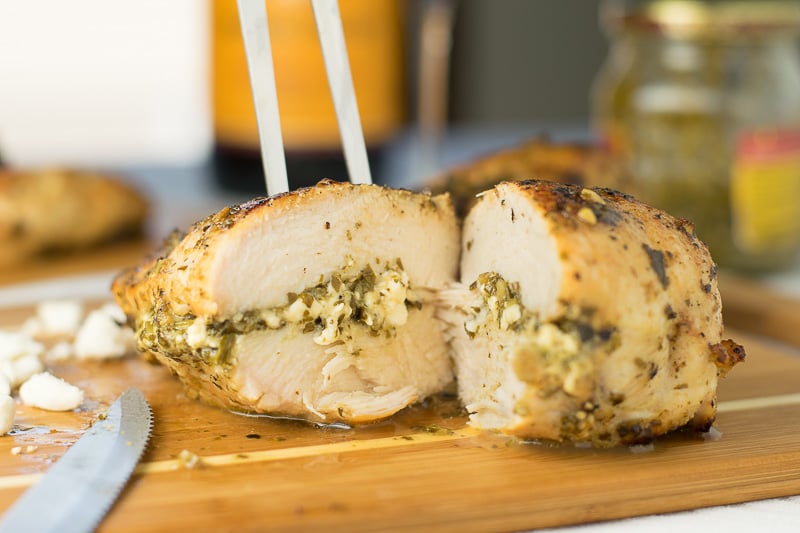 Stuffing food with more delicious food is the culinary equivalent of an edible Christmas present. It is just waiting for you to unwrap it with your fork and knife and enjoy what lies inside. Plus, best of all, Aunt Carol can never wrap one of her homemade knitted ties inside a chicken breast for you!
Put on your fancy pants, it's time to impress your family at dinner time with my Feta and Pesto Stuffed Chicken Breasts! This recipe is so much easier than it looks. It takes no time at all to create the feta pesto mixture, and other than a quick sear in a skillet the chicken breasts are hassle free! All you have to do is stuff them with delicious goodness!
Occasionally I'll dust the exterior of the chicken breasts with seasonings (paprika, onion and garlic powder), but it is largely unnecessary because I rub it with the excess pesto mixture for additional flavor. The feta has plenty of salt in it, so I find it is even unnecessary to salt the chicken.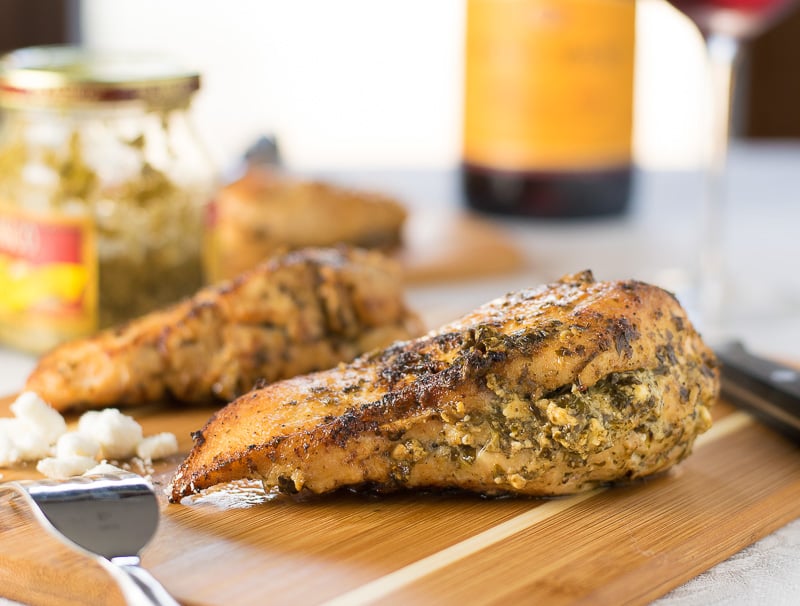 When posting chicken recipes I hate publishing cooking times (but I do because it's expected). It varies so much by the thickness of the meat and the calibration of your oven. Take them out too late and you'll be eating shoe rubber, take them out too early and you'll be treating your family to a plate full of salmonella... Mmmm! That is why, rather than relying on suggested cooking times, I use meat a high quality meat thermometer to ensure I remove the chicken from the oven at a safe temperature while still at its juicy peak. If you don't have a meat thermometer already, get one. I'd highly recommend the Lavatools thermometers, they are fast, accurate, and carry a lifetime warranty. I use them, and love them.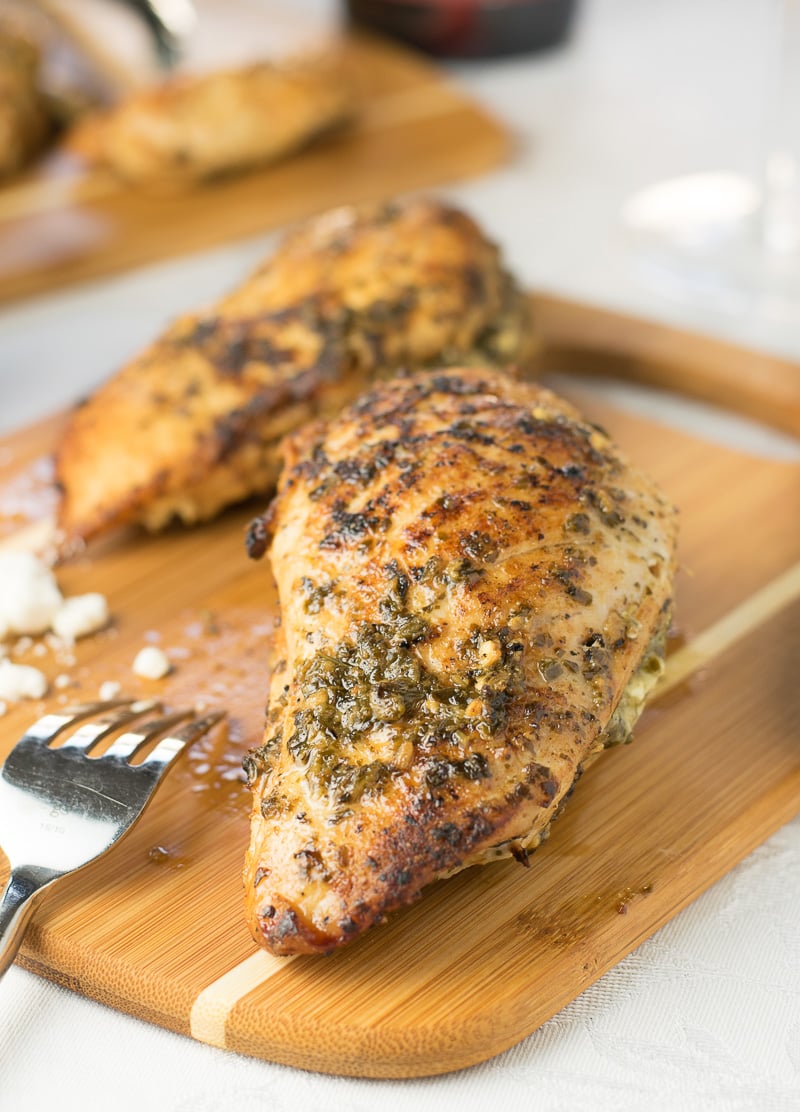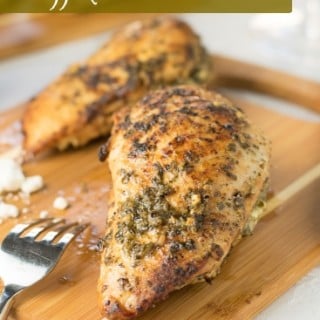 Feta and Pesto Stuffed Chicken Breasts
Feta and Pesto Stuffed Chicken Breasts are a healthy and flavorful way to impress your family at dinnertime!
Print
Pin
Rate
Save
Saved
Ingredients
4

Chicken Breasts

½

cup

Pesto

½

cup

crumbled Feta

1

tablespoon

Cooking oil
Instructions
Add olive oil to skillet and sear chicken breasts on medium high heat until the bottom is nicely browned then flip and repeat.

Remove from skillet and let rest till cool enough to handle, the inside should still be raw.

Preheat the oven to 400 degrees.

Cut a 2" slit into the side of the chicken breast and use your fingers to open a pocket inside the center of the breasts. Be careful not to tear a hole through.

Mix the pesto and feta together in a small bowl and then fill the chicken breast cavities with the filling.

Use toothpicks to close the hole opening so filling does not leak out during baking.

Rub any remaining mixture on the exterior of the breasts.

Bake in the oven until the internal temperature reaches 165 degrees, about 25 minutes depending on thickness.

Remove toothpicks and serve.
Notes
Note: Cooking time will vary depending on thickness of your chicken breast. Use a meat thermometer to guarantee good results.

If you enjoyed reading my Feta and Pesto Stuffed Chicken Breasts recipe then you should probably like me on Facebook and follow me on Pinterest too. That's what I would do at least, because if you don't get to know me but you still use my recipe it is kind of like taking candy from a stranger, and your mom taught you not to do that. Don't disobey your mom, subscribe to Fox Valley Foodie today.