She was grumpy, she snored, she snorted, she farted, she peed on the floor, and I loved her to pieces. Basil was the first dog I ever owned for myself. She was mine, and I was hers.
I drove two hours to rescue Basil from a shelter after her previous owner had left her starving and abused by other dogs. Our first day together she wouldn't even let me take a shower without bulldogging her way into the tub with me, in fear of us being apart. We bonded from the start. I was the only one she ever wanted to sleep next to and I was the only one to whom she would ever listen.
Basil was with me from the beginning. Before the birth of my daughter, the introduction of my stepson, or meeting my wife, there was me and Basil. Basil was my walking companion, huffing and puffing as she waddled down the street next to me. She was my copilot, as she joined me on practically every errand I ran. She was my friend, keeping me company in an otherwise solitary apartment.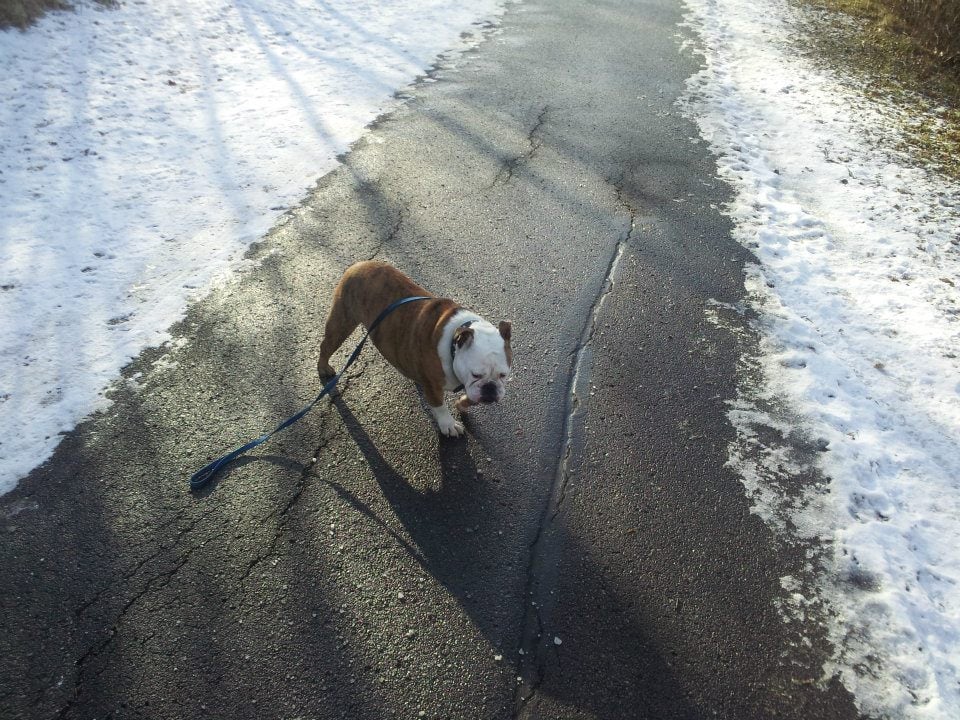 I thought about her death on occasion. I always had a romanticized view of it. Somehow I would know the time would be coming. We would dedicate an entire day to her. We would get her favorite treats, take one last car ride, hang out under her favorite tree in the back yard, and then she would slip away peacefully next to me when it was time.
Life in the Fox Valley plays out differently than Hollywood though.
Rather than my perfect ending, an otherwise good day at work was interrupted with a phone call from my wife who was frantically crying, "Basil's not breathing! She's not breathing! I think she is dying! What do you want me to do!"
I had 10 minutes left before I could close the bank down. More or less in shock, I traversed the remaining minutes of my shift with a stoically numb disposition while I flew through closing tasks without the slightest regard for quality control. I knew there was nothing I could do for her there, so I tried to block it from my mind until the door was locked and I was able to race to my car.
I called my wife back for an update, and as I tested the strength of my Saab's turbo I was hit with the cold news, "She didn't make it." Basil died on the way to the animal hospital. She was 7 years old.
My foot lifted off the gas while simultaneously the numbing sensation was lifting from my previously stoic disposition. Not one to be overly prone to emotions, I had always wondered how I would handle her death.
It hurt. A lot.
She wasn't supposed to die like this, she wasn't supposed to die so young, and it wasn't supposed to hurt like it did.
Basil has been with me since my first blog post, typically sitting quietly at my side as I type away, anxiously awaiting my next pause when I'll stop to pet her on the head in-between thoughts. She has been the unofficial mascot of FoxValleyFoodie.com for the past three years, but there aren't any dark brown eyes staring up at me as I type this one. No, the house is a little quieter today.
Nonetheless, Basil is doing what she has always done best. She is sleeping. Her sleep may be a little deeper now and her distinctive snores and snorts are heard only in my memories of her, but I can still find her resting in the same spot where she has always kept watch - laying underneath her favorite tree in the backyard. I think she'd like that.
Rest easy old friend.
Basil
10/12/2007 - 4/24/2015