I am a dreamer and I know it. If I got paid for all of the hours I spend dreaming about food related endeavors, I would be a very rich man. However until the Sandman cuts me a check I will continue to be a working stiff.
There is nothing more satisfying to me than sharing my joy for all things food with appreciative other people. That is the whole reason for this blog! Though, when I am not blogging I get equal joy coercing life out of the ground in my garden. There is just something immensely satisfying about enjoying a meal that you first set in motion months prior with just a seed and some dirt.
If my wife would let me I would probably turn my entire yard into a garden. But she insists the kids need some room to play. I tried to explain to her that they won't have time to play when they are spending all of their free time tending to my huge garden, but that didn't seem to help my cause.
One thing I am looking forward to with this year's harvest is eating plenty of Asian food. Once you have a few basic staples on hand you can make a variety of different Asian dishes with the addition of a few vegetables. For many of these dishes, like this mee goreng recipe, you can customize the recipe to include whatever produce you currently have on hand, or enjoy. It is very flexible. Having a garden full of fresh produce will give me unlimited options!
Mee goreng is basically spicy Indonesian noodles, and I am always up for a good spicy dish!  I discovered this recipe from the good folks at Scrummylane.com and I highly recommend the dish to anyone who likes flavorful Asian dishes with a hint of heat.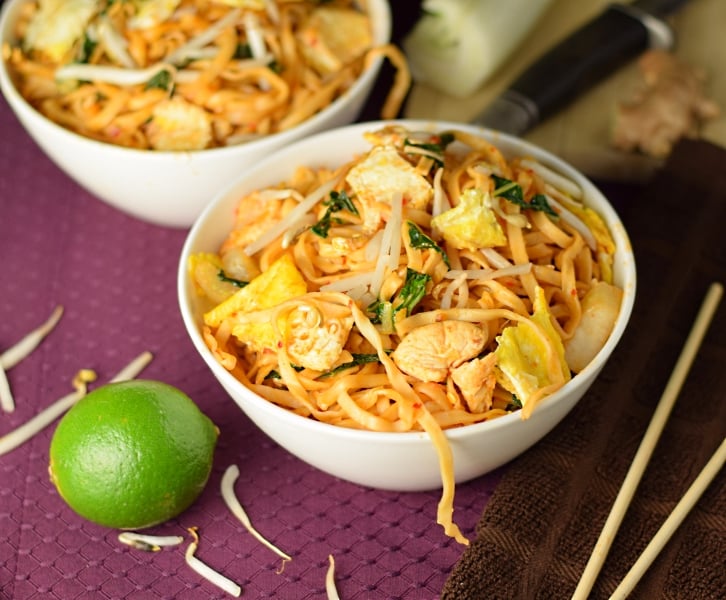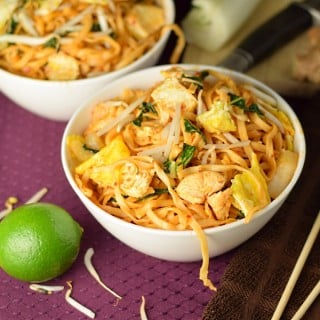 Mee Goreng - Spicy Indonesian Noodles
Mee goreng is a spicy Indonesian noodle dish that has deep nutty flavors and a hint of heat. You can customize this recipe to include whatever produce you currently have on hand, or enjoy. It is very flexible.
Print
Pin
Rate
Save
Saved
Ingredients
Sauce

1

tablespoon

peanut butter

1

tablespoon

thick sweet soy sauce

1

tablespoon

light soy sauce

3

teaspoons

chili sauce

1

tablespoon

tomato ketchup

2

tablespoons

oyster sauce

3

tablespoons

water

Noodles

1

tablespoon

sesame oil

3

eggs

2

cloves

garlic

chopped finely or crushed

a thumb-width-sized piece of fresh ginger,

peeled and chopped finely

7

ounces

chicken breast,

cut into ¼" slices

2

stalks

bok choy

chopped

10

oz

fresh egg noodles

2

large handfuls beansprouts

2

tomatoes

roughly diced

Toppings

Juice from lime

quartered
Instructions
In a medium bowl mix the soy sauce into the peanut butter, then whisk in all the other sauce ingredients and set aside.

Heat up sesame oil in a wok on a medium heat, then whisk one of the eggs and pour it into the wok. Roll the pan to spread the egg out a bit, and cook to set. Flip over for a few seconds, then transfer to a plate, roll up and cut into thin strips. Repeat with additional eggs and set aside.

Add more oil to the pan, then add the garlic and ginger. Cook for a minute, then add the chicken. Stir fry for a couple more minutes or until just cooked through.

Add the bok choy to the pan, stir fry for another couple of minutes until wilted and then add the noodles. Pour in the sauce at this point and combine all the ingredients.

Before serving add the beansprouts, tomatoes and eggs and combine well once again to warm. Add a splash of water if you think the dish needs it.

Serve the noodles immediately, topping with the lime!
If you enjoyed reading about this mee goreng recipe then you should probably like me on Facebook and follow me on Pinterest too. That's what I would do at least, because if you don't get to know me but you still use my recipe it is kind of like taking candy from a stranger, and your mom taught you not to do that. Don't disobey your mom, subscribe to Fox Valley Foodie today.