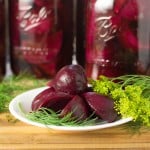 Print Recipe
Dill Pickled Beets for Canning or Refrigeration
These dill pickled beets are not only a family favorite, but also a fourth generation family recipe originally created by my grandma and great grandma over 50 years ago. Great recipes stand the test of time and this one is a keeper!
Beets to fill 4 quart jars

2

cups

Sugar

2 ½

cups

White Vinegar

1

cups

water

1

tablespoon

Pickling Salt

1

head of fresh dill per jar
Leaving 1" of stem and all of roots intact, boil the beets for ~1 hour, or until easily pierced with a knife.

Remove beets and let cool enough to handle.

Boil sugar, salt, water and vinegar in pot.

Remove outer skin and quarter beets (or cut into manageable sizes) and place in clean quart jars along with 1 head of dill.

Pour over brine solution, add lids, and process in water bath for 30 minutes if canning, otherwise place in refrigerator and let sit for a few days before enjoying.
Yields 2-4 quarts, depending on how packed the beets are.
30 minute processing time comes from similar USDA approved recipe, however it is important to note this is not a USDA tested or approved recipe.
To guarantee safe processing place jars in refrigerator rather than canning for long term storage.
Pickling spice can also be added for additional flavor!