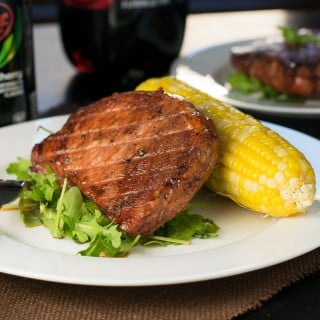 Print Recipe
Dr Pepper® Cherry Glazed Pork Loin Chops
Reducing down a Dr Pepper® Cherry into a flavorful, sticky, and flavor infused glaze makes it a perfect coating to a succulent pork loin chop!
Add all ingredients for glaze into sauce pan and cook at a boil till reduced to 1 cup. Sauce should have a syrupy consistency.

Lightly salt chops on each side and brush with glaze.

Bake in 375 degree oven for 20 minutes, or until internal temperature reaches 145 degrees.

Keep sauce warm and brush additional coats during cooking if desired.

Cooking time will vary depending on thickness of the meat.