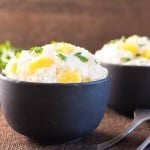 Print Recipe
Coconut Milk Rice with Pineapple
Coconut Milk Rice with Pineapple features tender white rice simmered in a rich bath of coconut milk, resulting in a creamy side dish spiked with the bright taste of pineapple!
Rinse rice under cold running water then add to saucepan along with water, coconut milk and salt.

Briefly stir the rice to ensure it does not stick to the bottom as you bring liquid to a boil, then cover saucepan, reduce to a simmer, and cook till the liquid has been absorbed and rice is tender, ~25 minutes.

Stir in pineapple tidbits, taste for salt and serve.
Pineapple tidbits come in a can and are smaller than pineapple chunks.
The time it takes to cook rice varies depending on your level of heat.
Tip: If the liquid absorbs/evaporates before rice is tender you can add a couple tablespoons of additional water to assist with cooking. This can be an issue if you forget to cover the saucepan.
Substitute pickled pineapple for even more flavor!