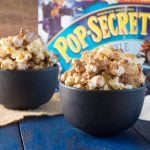 Print Recipe
S'Mores Popcorn Movie Night Snacks
If you are looking for movie night snacks your whole family will love, you need to try this S'Mores Popcorn recipe! The popcorn is drizzled with a sweet chocolate marshmallow sauce and sprinkled with graham crackers, chocolate chips, and marshmallows for a delectable treat!
Pop popcorn in microwave according to package instructions.

Spread popcorn evenly over laid out parchment paper and sprinkle graham crackers on top.

Place butter, ¼ cup chocolate chips, and half of the bag of marshmallows in a large bowl and microwave till butter has melted. Stir mixture to fully incorporate.

While the butter mixture is still hot pour mixture evenly over popcorn.

Sprinkle remaining chocolate chips and marshmallows on top.

Add S'Mores Popcorn to a large bowl and gently stir to fully combine.