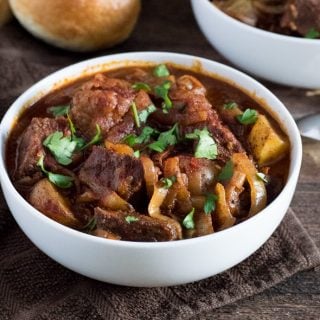 Print Recipe
Hungarian Beef Goulash
Seasoned liberally with smoked paprika, Hungarian Beef Goulash is a hearty central European stew perfect for warming you up on cold winter evenings.
6

slices

large yellow onions,

halved and cut into 1/4"

2

lbs

golden/red potatoes,

cut into 1" chunks

4

tbsp

vegetable oil,

divided

2 ½

lbs

beef chuck,

cut into 1" chunks

1

cup

beef stock,

divided

3

tbsp

flour

1

tsp

caraway seeds

3

tbsp

smoked paprika,

divided

1

tsp

kosher salt

1

tbsp

brown sugar

1

tbsp

ketchup

1

tbsp

cider vinegar

1

tbsp

fresh parsley
Preheat the oven to 375. Toss the onions and potatoes in 1 tbsp of oil each, separately. Place them in the oven on separate racks and roast onions until lightly browned, about 45 minutes, tossing halfway through. Roast potatoes until exterior has formed a nice crust and interior is easily pierced with a fork.

Remove pans from oven and scrape up any brown bits clinging to the pans using ½ cup of the beef stock.

Add onions stock pot. Reserve potatoes.

While onions and potatoes roast mix flour, caraway seeds, 1 tbsp paprika and salt in a bowl. Add beef chunks and toss to coat. Shake off extra flour and reserve the flour mixture.

Heat 1 tbsp of oil in skillet and add beef in batches to brown. Add additional oil with each batch as needed. Add each batch to stock pot once browned.

Add any remaining flour to the skillet and stir till lightly browned. Add in remaining ½ cup of beef stock, brown sugar, ketchup, vinegar, and 1 tbsp paprika. Bring to a boil and add to slow cooker.

Cook everything for 4 hours, or until beef is fork tender. Potatoes can be added in the last hour.

5 minutes prior to finishing add remaining tbsp of paprika and chopped parsley.