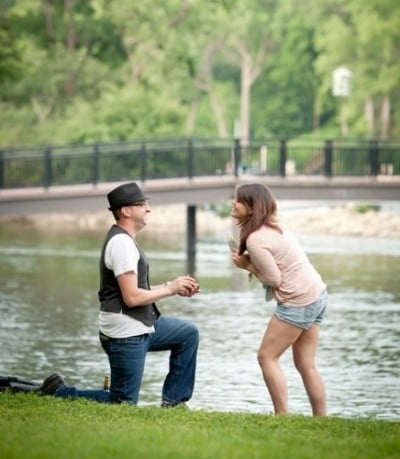 It has now been 100 posts and almost three years since Fox Valley Foodie first hit the internet. Wow! Can you believe it? OK, well maybe you weren't exactly running a countdown, but you can still feign excitement.
A lot has happened in three years. I met my wife, bought a house, got married, got a new job, have my first baby on her way, and saved a kitten from a tree! (And by "kitten" I mean "kite" and by "saved" I mean "got tangled". Semantics) That's still a lot of life happening! It's no wonder I had to take a step away from Fox Valley Foodie for about a year as life got too hectic while I tried balancing my new family life and a blog.
That break, however, turned into a blessing. Since I've been back I've been more motivated than I have ever been! Not only did it give me the much needed perspective to ensure I can balance my time properly between blog and family, but I am also bursting with new ideas and goals for FoxValleyFoodie.com. I want to make FoxValleyFoodie.com better than ever!
However, that is expensive.
I decided since this is a food blog, people maybe would rather look at pictures of tantalizingly delicious food rather than images that more closely resembled Martha Stewart's Twitter feed. (See image on right) So with that in mind I purchased a legit DSLR camera, something my wife was actually begging for since we first met. Turns out that was a good joint Christmas/birthday present for the both of us. (Yes, I spent $500 combined for both of our Christmas and Birthday presents! I know, I'm cheap, but I also don't swim in debt, so there!)
Sadly, Nikon failed to mention on the box that buying their camera won't instantly make you a good photographer, and it turns out just wishing really hard doesn't shorten the learning curve. Instead I've spent a good deal of time trying to figure out how to construct a delectable image. Though I ask you to bear with me as I still have a long ways to go, but I certainly feel progress has been made at the same time.
Besides the camera, I spent more on a stupid light than I ever thought I would. $100 for two bulbs hidden behind white plastic! But it was worth every penny.
I also spent a respectable amount of money on a fancy new lens for my camera that will allow me to take better pictures in low light restaurants for my reviews. Now, only if I can figure out how to use it.
Sadly that is not where it stops. It turns out blogging is a bit like having kids, you need to spend some money if you are expecting them to thrive. I need a tripod to assist with photo-shoots for my recipes, and after speaking to a camera salesman today if I buy the cheapest tripod, not only will my camera break but I will be haunted with red eye in every photograph I take for the rest of my life. Maybe I'm embellishing.

Additionally, I am DYING to get a professional logo for FoxValleyFoodie.com. That is probably the thing I want most, but I am afraid to pull the trigger on it because I can't visualize what it should look like, other than saying it should be "classy" and "fun". Oh, and incorporate my fedora. I can be a perfectionist at times so I fear the graphic designer won't be able to make the perfect logo come to life, and I just won't be satisfied. I'm probably being overly paranoid but I don't want to spend the money until I know I will get the result I want. Maybe I just have trust issues.
Finally, I also want to update my website theme to be a bit more modern with some additional features that will make it more user friendly. I think I found the winning theme; it is just a matter of scraping together the money to make it happen.
As I look forward to all the exciting changes still to come I am being encouraged by the successes I am seeing every day. December finished as FoxValleyFoodie's most profitable month to date topping out just shy of $30, and January is on track to exceed 12,000 page views this month, my best month ever! My blog's traffic has also more than doubled since October and I am picking up new Facebook fans every day. It is hard not to be optimistic about where things are going!
In the end, after 100 posts, the more things change the more they stay the same. My dog Basil is still sitting next to me, wondering why I don't devote my every last moment to her, and rather than sipping cheap brandy I am sipping another cheap distilled spirit that the revenuers may take issue with. But that is neither here nor there, because it will be gone before the door breaks in.
Thanks for being a loyal reader. Now I believe it is coming time for my annual cigar.