Homemade Sloppy Joes are not only easy to throw together, the rich zesty flavor is better than Manwich!
You know what? I have the best readers ever! You guys are exceptionally smart, good looking, and a complete joy to interact with. And I am not just saying that because the success of my website is utterly dependent upon you. That would be silly, why would you even think that?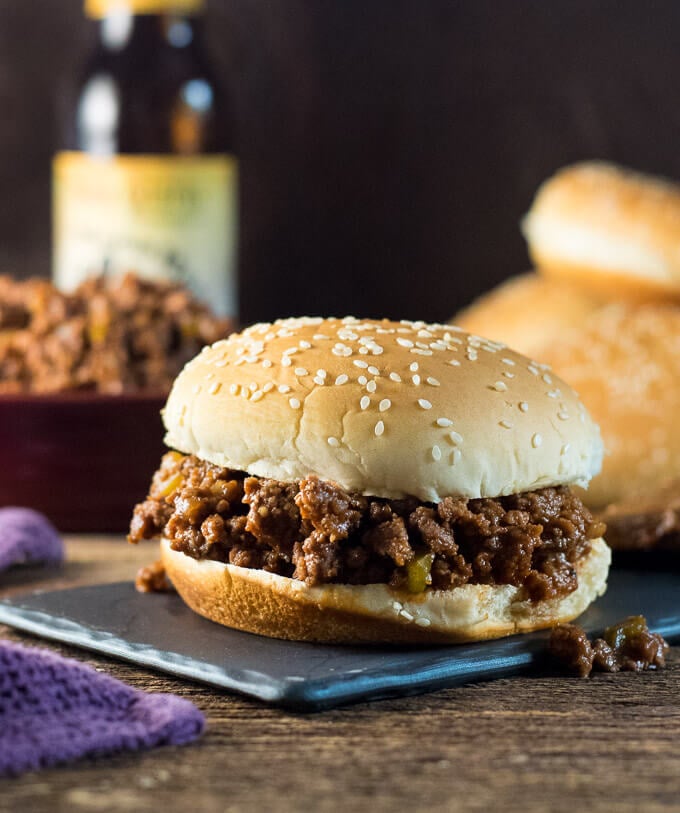 Pandering is completely beneath me unless of course, it works.
Manwich Sloppy Joe Recipe
To celebrate you, I whipped up a special Homemade Sloppy Joes recipe that, I promise, tastes better than Manwich! The sauce bursts with a deeper, richer, flavor that I absolutely love! Most importantly, you probably have all of the ingredients for it already in your kitchen!
Plus, let's be honest, we all feel a bit lazy dumping Manwich from a can and calling it dinner. If you make my Homemade Manwich recipe, it not only tastes better, but your family will think you care about them more! You DO care about your family, right?
How to Make Homemade Sloppy Joes
You can customize homemade Sloppy Joes however you would like, however, the basic ingredients consist of ketchup for a base, brown sugar for sweetness, and vinegar and/or mustard for a zesty tang. Personally, I like to deepen the flavor with Worcestershire sauce as well as a bit of paprika. Also, a dash of cayenne really balances out the sweetness without adding noticeable heat.
I find it is best to make this in a deep sided skillet like a saute pan. You can use nonstick or stainless, but if given the choice I would recommend using stainless because you will get more flavorful fond building up on the bottom of the pan that will incorporate into the sauce.
The above link is an affiliate link. Any Amazon purchases made through this link helps support FoxValleyFoodie.com at no additional cost to you.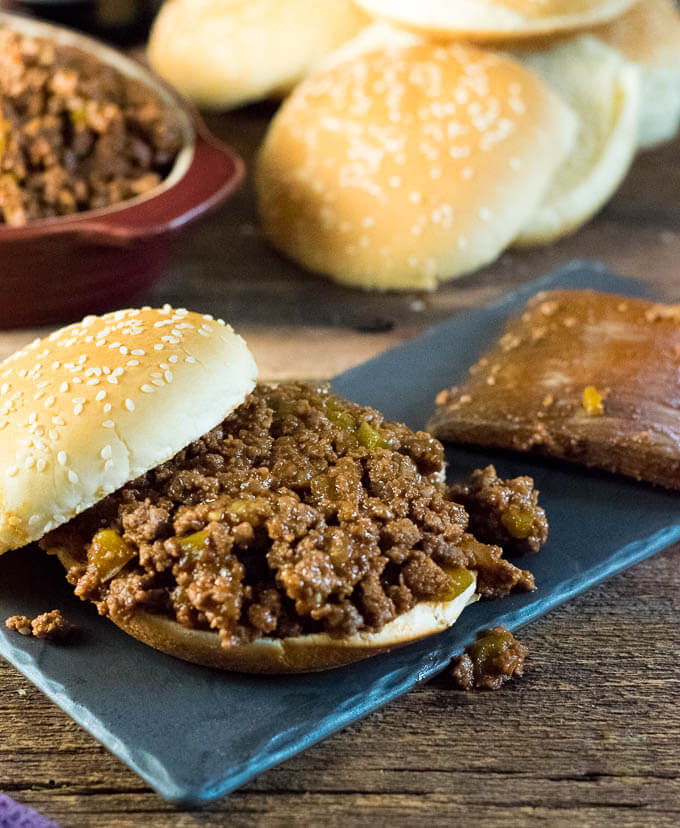 More Homemade Sloppy Joes
For more homemade sloppy Joes, Check out these creations!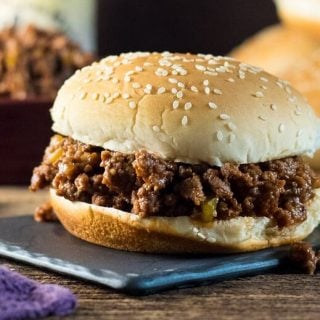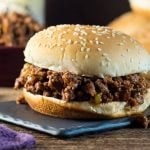 Print Recipe
Homemade Sloppy Joes – Better than Manwich
Homemade Sloppy Joes are not only easy to throw together, the rich zesty flavor is better than Manwich!
Ingredients
2

lbs

extra lean ground beef

1/2

onion

diced

1

green pepper

small diced

4

cloves

garlic

minced

1 1/4

cup

ketchup

1

tbsp

cider vinegar

2

tsp

worcestershire sauce

3

tbsp

brown sugar

1

tsp

dijon mustard

1/2

tsp

paprika

1/4

tsp

cayenne pepper

2

tsp

salt

fresh ground pepper to taste

8

hamburger buns for serving
Instructions
Add ground beef and onions to a skillet and cook until beef is browned.

Add all remaining ingredients (except for buns) and cook for 20-25 minutes, or until beef is crumbly and liquid has formed a thick sauce.
Notes
Note: The longer the mixture cooks, the thicker it will get. You want the sloppy joes to be thick enough to stand up on a wooden spoon so they don't ooze out of the hamburger bun.
IF YOU LIKED THIS RECIPE you will love these Philly Cheesesteak Sloppy Joes! It is a family favorite!
Loved this recipe?

Be sure to rate it and share you thoughts below!
*Calories listed are a vague estimate and accuracy should not be assumed.
If you enjoyed reading my Homemade Sloppy Joes recipe then you should probably like me on Facebook and follow me on Pinterest too. That's what I would do at least, because if you don't get to know me but you still use my recipe it is kind of like taking candy from a stranger, and your mom taught you not to do that. Don't disobey your mom, subscribe to Fox Valley Foodie today.